6 Melbourne police officers filmed beating, humiliating pensioner might face suspension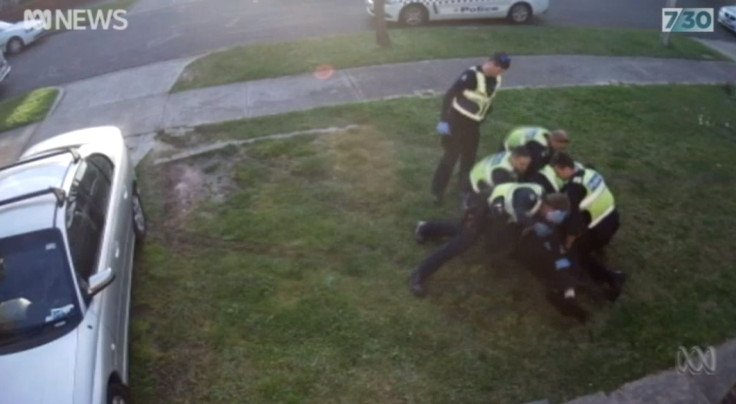 The six police officers who took down a pensioner could face suspension. The officers were filmed by a CCTV beating and humiliating a disability pensioner in his front yard. Victoria Police said the case is under investigation.
The incident, which was caught on the pensioner's CCTV and aired on the ABC on Tuesday, shows the six officers taking part on pinning down, capsicum-spraying the pensioner, and dousing him with a high-pressure garden hose. The pensioner, named John, has taken his case to Victoria's Independent Broad-based Anti-Corruption Commission (IBAC). He is also launching a civil case.
Assistant Commission Luke Cornelius, the acting head of Professional Standards Command at Victoria Police, said he had ordered an investigation into the incident after viewing the video. However, he was later told that IBAC had already begun its own inquiry.
Cornelius refused to comment any further to avoid influencing the investigation. He added, though, that the officers had not been stood down.
"Our practice is that we conduct an initial inquiry and if, on advice from the investigators undertaking that inquiry they recommend that members ought to be stood down, then that decision is considered at that time," Cornelius said.
About six hours following Cornelius' comment, the Victoria Police released a statement saying it was considering taking "interim action" against the officers. "That will include consideration of whether any of the officers should be suspended from duty pending the outcome of IBAC's investigation."
Pinned down, hosed down and humiliated
In the CCTV footage obtained by The Age, the officers are seen arriving at John's house in Preston, Melbourne in September last year, responding to his psychologist's triple zero call. The psychologist had said she was worried about his deteriorating mental health.
John pleads with them to leave him alone, telling them he is detoxing from prescribed painkillers, so he's weak, "vomiting blood," and has diarrhoea.
But the officers, empowered by the Mental Health Act, warn John they would use a crowbar to force entry. John pleads once more, but the officers are insistent. When he opens his front door, the lead officer appears to move forward and attempts to grab John, who brushes his hand aside and extends his hands upward to the officer. The action looks like he is attempting to push him back weakly. He does not make contact, but he is still capsicum-sprayed and pinned down.
As The Age notes, the officers' actions were arguably professional up to that point. However, it was what they continued to do once John was already on the ground that their actions became questionable.
The officers beat the pensioner on the ground with a baton, punching him on his back and capsicum-spraying his eyes. The officers also recorded John while they were dousing him with a garden hose at maximum pressure. One of the policemen is seen in the video pulling his phone out to capture the moment as another officer aims the jet of water into the pensioner's eyes for the third time.
"He's aiming for my nostrils and it's going into my lungs — and that's when I started choking from the water and from the hot mace going into my respiratory [system]," he said. "I couldn't breathe."
When they are finished, John is seen on the video crying on the grass, "Why are you doing this to me?" The lead officer was recorded in the CCTV telling him, "Definitely don't shape up to me, mate. Ever."
The cop continues, "You came out and tried to take a swing at me. What the f--- did you think would happen?" The cop is seen smoking a cigarette. "It was the only way it was gonna go down."
John said the incident left him "humiliated and degraded." Robinson Gill Lawyers, which is representing him, said he had not committed a crime and has not been charged. John has a minor assault record from 10 years ago.
None of the officers raised concerns about their colleagues' behaviour. This left John to file his own complaint, though not to the police due to fears of reprisal.
His lawyer Jeremy King, who has handled multiple cases of alleged police misconduct and brutality, said it wasn't surprising that people have little confidence in the system. King said that people didn't want to complain to the police because there would be a conflict with the police investigating their own.
"But then the problem is they complain to IBAC, and IBAC refers over 90 perfect of those back to the police to complain, which is extraordinarily disheartening for people who have thought they've gone to an independent body, they're going to get some sort of independent oversight, and then it just goes back to the police who are then investigating their own," he was quoted by the ABC as saying.
MEET IBT NEWS FROM BELOW CHANNELS