Is This the Tesla of Greenhouses?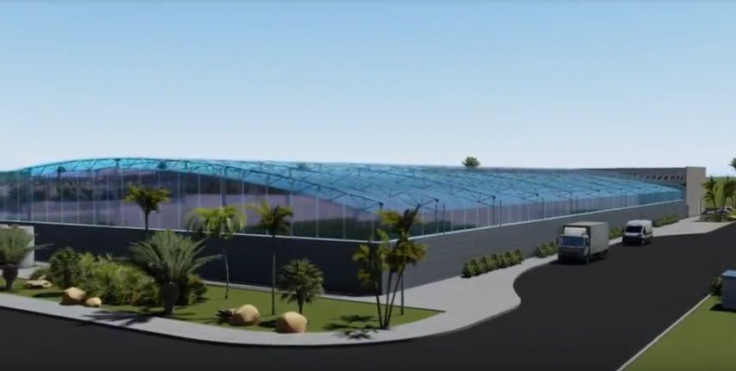 When people think of "technological disruption", very few would think the greenhouse industry would be ripe for the picking. Yet, surprisingly, a key cog in the agricultural and research industry has really not changed much since its invention centuries ago. Materials may have improved, but the fundamental features of greenhouses have not. That has changed with the new AGT Hybrid Greenhouse, created by Terry van Gelder. According to a 2016 report by Research and Markets, the global commercial greenhouse market is projected to reach USD 29.64 billion by 2020. The strong growth rate of the greenhouse market is driven by the agriculture sector, the burgeoning cannabis industry and research and development initiatives by various companies.
Van Gelder is CEO of Ancon Development Corporation and has always had a penchant for inventing things, but his real talent lies in finding ways to improve on products. "I've always been good at critiquing things," he says, "of finding new ways to improve a product or process."He credits his twenty-plus years in agriculture as a formative influence on his analytical and mechanical abilities. "In agriculture, something always needs to be repaired," he states. "It's just the nature of the profession."
Van Gelder's knowledge of multi-crop production and harvesting led to mechanical crop handling and the sale and installation of agricultural buildings and storage systems. Eventually, agriculture and construction became two separate ventures, with Van Gelder relocating the construction side from Southwest Iowa to Escondido, California. There, Van Gelder has been designing, constructing, and renovating buildings for an impressive host of private and public entities, including the US military.
"Military-grade buildings are by far the most challenging,"Van Gelder explains. As nontraditional structures, they're required to meet the Department of Defense's Unified Facilities Criteria (UFC), which specifies that they must be built with anti-terrorism and anti-progressive collapse features to minimize potential damage. If one section of a facility is targeted, the rest of the structure is designed to remain standing.
Van Gelder's experience assessing structures for weaknesses gave him a unique perspective on the construction industry. "I couldn't help but notice how much money is wasted by buildings that could be utilizing sunlight and other natural sources of energy," he says. Greenhouse construction, in particular, hasn't been upgraded in over a century due to a lack of integrative technologies.
One of the primary problems that current end users were experiencing with their existing greenhouses was the inability to drape them without interfering with the artificial lighting and other ceiling features. This is especially inconvenient for crops like cannabis, which need to grow in closely monitored light-dark environments that allow the plants to "sleep"at night. "The time it takes companies to drape and re-drape their greenhouses is time wasted,"Van Gelder states. "It's obvious that the ability to control both the natural and the artificial light without disrupting the other greenhouse features is essential to successful crop production."
In a bold move, comparable to what Tesla did for the automotive industry, Van Gelder ended up chucking traditional greenhouse design and revolutionizing their construction from the ground up. The result was the AGT Hybrid Greenhouse, a sleek, eco-friendly, tech-savvy, multi-use structure and the only one of its kind that can be used outside the industrial zone.
Van Gelder's major innovations to traditional greenhouse design include his patent-pending oil bath fans, which efficiently trap and eliminate air contaminants. These work in concert with an underground network of pipes and perforated chambers to cool, heat, and filter air by using natural earth air conditioning methods which controls the greenhouse's temperature. Inside the greenhouse, complete climate control is achieved via recessed ceiling cavities, adjustable lighting, and customizable day-lighting features. Optional features include cloud cover hazing, draping, electronic glazing day-lighting control, and louvered day-lighting. The reflective coating on the floors and elevated grow platforms maximizes natural daylight for accelerated plant growth, while transparent doors and dividing walls minimize unwanted shading.Independently sealed grow rooms, or clean rooms, prevent cross contamination to meet increasingly stringent state and federal standards.
AGT Hybrid Greenhouses are also "green" in another important way. Up to eighty-five percent of each greenhouse is constructed from recycled materials, exceeding the California Green Building Code (a.k.a., the CAL Green Code) by as much as fifty percent. The amount of energy saved by maximizing the natural daylight is equal to the cost of the greenhouse's construction, and the scattered UV rays makes them safe for more than year-round, multi-crop production.
When disclosed to the building department at the city of Coachella in California, they were very impressed with the eco-friendly, tech-savvy AGT Hybrid Greenhouse and stated without question that it would be approved for construction within the city's industrial zoned properties."Let's face it. Most greenhouses aren't very pretty," Van Gelder puts it mildly. "It's understandable that people wouldn't want them blocking the view." Unlike their precursors, the sleek, sophisticated structures meet local zoning regulations, making them suitable for a variety of other uses, including business, sports, recreation, manufacturing, and storage.
Though Van Gelder was thrilled by the city officials' reception, he admits that it would be difficult to choose which innovation he's most proud of, as each one corrected a problem that he encountered in his experience with traditional greenhouses."It's in our natures to create," he says. "The talent just needs to be sourced, which can lead to surprises."Van Gelder also participated in talks with the Veterans Administration representatives about using AGT Hybrid Greenhouses to grow pharmaceutical cannabis to treat veterans suffering from PTSD.
Other projects include a patent-pending electromagnetic engine for the automotive/truck market, all new automotive and heavy truck brake design, self-powered generators and thermal solar panels using steam to power onsite generators for the greenhouses – a further example of Van Gelder's desire for constant improvement. "The electromagnetic engine and self-powered generator will be a huge upgrade for electric vehicles," he says, "which need – and still lack – enough charging stations to make them practical for the average consumer." With so many factors working in their favor, it will be intriguing to see how AGT Hybrid Greenhouses influence other industries. With so much "green" profits up for grabs, this could be a bet that pays off.
MEET IBT NEWS FROM BELOW CHANNELS