'Stranger Things' season 2 spoilers: Netflix announces 'Stranger Things' new chapter titles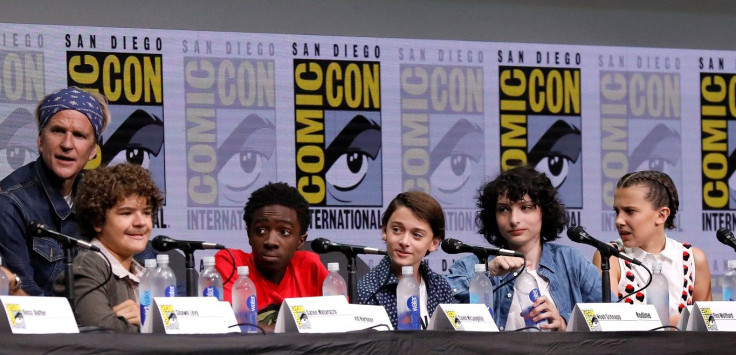 "Stranger Things" season 2 will be released on Netflix on Oct. 27, but as early as now, titles of the episodes have been announced on the show's official Twitter account. Aside from the titles, the post also contains a few images that provide hints of what to expect. Read on to learn more about it.
Spoiler Alert! This update has additional Stranger Things" spoilers. Read on if you want to know more about the Netflix series' season 2.
The new titles of the "Stranger Things" episodes for season 2 are:
1. "MadMax"
2. "Trick Or Treat Freak"
3. "The Pollywog"
4. "Will The Wise"
5. "Dig Dug"
6. "The Spy"
7. "Chapter 7"
8. "Chapter 8"
9. "Chapter 9"
The announcement teaser of the Netflix series' second season in August 2016 revealed different episode titles, except for "MadMax." The previously released titles of episodes 2-9 were "The Boy Who Came Back To Life," "Pumpkin Patch," "Palace," "Storm," "Pollywog," "Secret Cabin," "Brain" and "Lost Brother."
The Duffer Brothers talks about the old episode titles
According to an interview with The Hollywood Reporter (THR), show creators Matt and Ross Duffer, aka The Duffer Brothers, said they wanted to provide hints of where the story was heading in season 2 without revealing too much. They also said that the titles in the video teaser will change.
"There were titles we didn't want to put on there because we felt like it would give too much away," Matt told THR. "Even if they aren't the final chapter titles, everything in that teaser is major," he added. "But they're ambiguous enough that no one is going to be able to figure it out."
They added that some fan theories are amazing, and while most of them are wrong, some are right or are very close. Some of them have even figured stuff out based on the titles of the episodes.
The Duffer Brothers directed "Stranger Things" season 2 episodes "Madmax," "Trick or Treat Freak," "Chapter 8" and "Chapter 9." Meanwhile, Shawn Levy directed "The Pollywog" and "Will the Wise." Andrew Stanton directed "Dig Dug" and "The Spy," and Rebecca Thomas directed "Chapter 7."
'Stranger Things' season 2 plot
The plot of the Netflix TV show's second season will take place in 1984, around Oct. 31 aka Halloween. It happens a year after season 1 events. It will still explore Will's (Noah Schnapp) disappearance and how he and his loved ones try to go back to their normal lives after the things they've experienced. However, Will won't have an easy time moving on because he'll remember stuff from his time in the Upside Down, including visions of a shadow monster.
Eleven is alive
In the season 1 finale of "Stranger Things" titled "Chapter Eight: The Upside Down," Eleven (Millie Bobby Brown) vanished after helping the children in middle school fight off the monster. Her friends think she died. However, Matt Duffer confirmed that Eleven is alive. "I want people to know that she's back and she's a major part of the season and not know how or why," he told EW.
He explained that Eleven's backstory will be explored in season 2, including where she came from as well as the program she was part of. "Last season I didn't get to expand [on the character] — this season is giving me that opportunity," Brown added. As for the rest of the cast of "Stranger Things 2," click here to see some of their photos.
"Stranger Things 2" airs on Netflix on Oct. 27. Stay tuned for updates about the series in the coming days. In the meantime, check out the videos below to tide you over until the series' highly anticipated season 2 premiere.
Watch: 'Stranger Things' | 1984 | Netflix
MEET IBT NEWS FROM BELOW CHANNELS