'Star Wars Rebels' Season 3 episode 10 preview video: Darth Maul looking for answers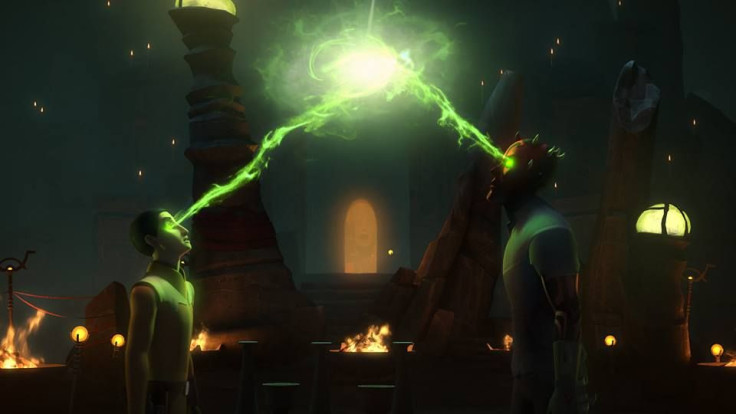 "Star Wars Rebels" season 3 episode 10 is titled "Visions and Voices." As the name suggests, Ezra will see disturbing images of Darth Maul and has to find a way to end his connection to his "master." But, there may be a price he has to pay to achieve that.
[Spoiler alert]
Even though Ezra Bridger (Voice by Taylor Gray) was able to resist the Dark Side of the Force and no longer acknowledges Darth Maul (Voice by Sam Witwer) as his teacher, he is still connected to the Sith. The preview videos of the next episode tease how that connection will haunt the young hero.
The first preview is a part of the latest "Rebels Recon" episode. In the middle of a briefing for a mission against the Empire, Ezra sees and hears Darth Maul. These are just visions that he has, and no one else in the room can see or hear the Sith Lord.
After a few filler episodes, the story is back on track in "Star Wars Rebels" Season 3 episode 10. Events have not really moved forward ever since Darth Maul and Ezra came together to unravel the deepest secrets of the universe. The Sith Lord quickly left and went in search of a man he saw in his visions, while the hero struggled to understand what all those images he saw meant.
The next episode will dwell deeper into this mystery. Another preview video that has been released online shows that Darth Maul may also not have had much success on his own. He needs Ezra's help to restore their memories. The young hero may agree to it, but may demand the Sith cut the Force connection between them.
According to the official synopsis of "Star Wars Rebels" Season 3 episode 10, Ezra will need to participate in a strange ritual in order to sever his connection to the Sith Lord. Darth Maul has collected various objects, and the preview video teases the Darksaber, which the young hero will see for the very first time.
Credit: YouTube/ Star Wars
MEET IBT NEWS FROM BELOW CHANNELS