'Star Wars: The Last Jedi' theory: Knights of Ren origins; scene description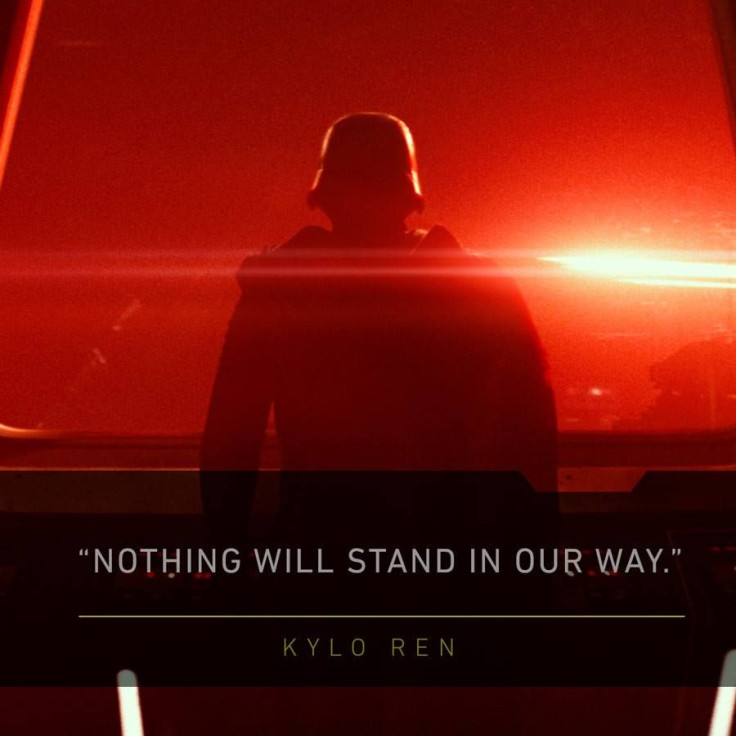 "Star Wars: The Last Jedi" is expected to reveal the back story of the Knights of Ren and Luke Skywalker. A new theory looks at what that could be, and even describes a possible scene that can be featured in the film.
[Spoiler alert]
In a new video posted on YouTube, Mike Zeroh speculates that there will most likely be two flash back scenes in the upcoming movie. The first one will be through Luke (Mark Hamill) and Rey (Daisy Ridley), and the second one will be told through Kylo Ren (Adam Driver) and Supreme Leader Snoke (Andy Serkis).
One of these flash back sequences, Mike believes, will tell the story of the origins of the Knights of Ren. According to the theory, the scene will reveal the group's first mission, which is speculated to be a battle against Luke; to take him and his fledging new Jedi Order down.
Mike describes this battle scene to be set at night, with rain. With roaring thunder and lightning, the Knights of Ren and Kylo Ren have their lightsabers, and they team up against Luke and his students in this "Star Wars: The Last Jedi" flashback scene.
It is not clear is the Knights of Ren and Luke's students had lightsabers at that time. Mike feels this will be an interesting aspect for the film to reveal. This is not the first time the fans will be seeing multiple wielders of lightsabers. This was done in the not so loved prequel trilogy, but Mike thinks that fans will not mind Director Rian Johnson being inspired to bring this to an action sequence.
The consequence of this battle will be the Knights of Ren killing all of Luke's students, and later retreating with Kylo Ren. The old Jedi Master himself could get injured in this battle, and Mike believes that this could be due to him trying to save someone we don't know about yet.
The origin story of the Knights of Ren will be seen at some time in the future, J.J. Abrams has confirmed in the Collector's Edition of "The Force Awakens." Mike believes that this part of the story was being saved for the sequel and not the final movie in the new trilogy.
"Star Wars: The Last Jedi" is slated to be released on Dec. 15 in Australia. The first trailer will be released in April at the Celebrations event of the franchise.
MEET IBT NEWS FROM BELOW CHANNELS