'Sons of Anarchy' prequel to star Brad Pitt as Jax Teller's father; Charlie Hunnam super-excited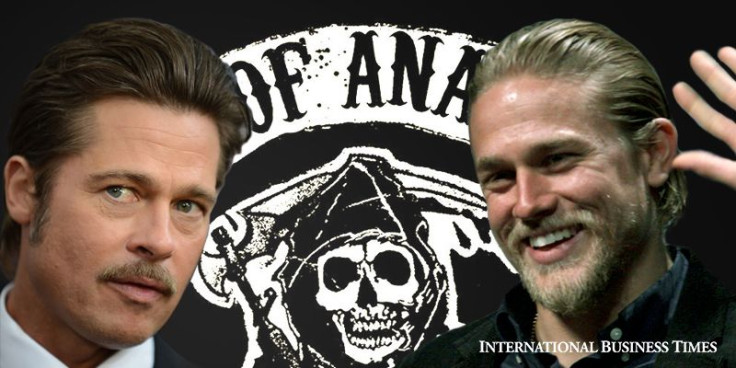 If "Sons of Anarchy" fans thought it's all over once the show ended after seven seasons, they thought wrong. Nothing's over for the franchise and the much-anticipated prequel is already underway. More importantly, the prequel stars Brad Pitt.
That's not all. Talks are also being held for a possible spinoff about the Mayans as well. The cast will be back together for a reunion in Houston, Texas, scheduled to be held from May 27-29, 2016 for the prequel and the spinoff.
The Harley Davidson gang's spinoff will be a hard-hitting drama, though users may not be happy about one thing, writes Lawyer Herald. The spinoff will be portrayed by a separate group of actors who will breathe life into familiar ground under the helm of FX Productions. Kevin Sutter will be an executive producer in the spin-off series.
Those who are not aware of what the show is all about, "Sons of Anarchy" is a US crime television series that focuses on the lives of a motorcycle club, the Sons of Anarchy Motorcycle Club, Redwood Original, or SAMCRO, and its members. The series started in 2008 and ran for seven seasons. It gained a viewership of about 9.2 million.
According to CrossMap, Hunnam is not so sure about reprising his role of Jax Teller, although Pitt will be starring in the new cast playing Teller's father.
"I'm not sure when it would happen though, he's got another TV show he's working on. I don't know if he needs me as a lead actor on that too," Hunnam said.
In an interview with Men's Journal, Hunnam expressed his sadness over the death of his character in the end on the show and that the show got cancelled. However, he was extremely optimistic and charged up to see Pitt having a role in the prequel.
"Did you read that about Brad Pitt maybe playing my dad? Brad Pitt as John Teller. How awesome would that be?," Hunnam said in the interview.
The "Sons of Anarchy" spinoff won't be about the "First 9" as initially thought. The upcoming spinoff will be about the Mayans.
MEET IBT NEWS FROM BELOW CHANNELS