'Sherlock' series 4 could be the last; Steven Moffat says Benedict Cumberbatch too famous and busy for a 5th series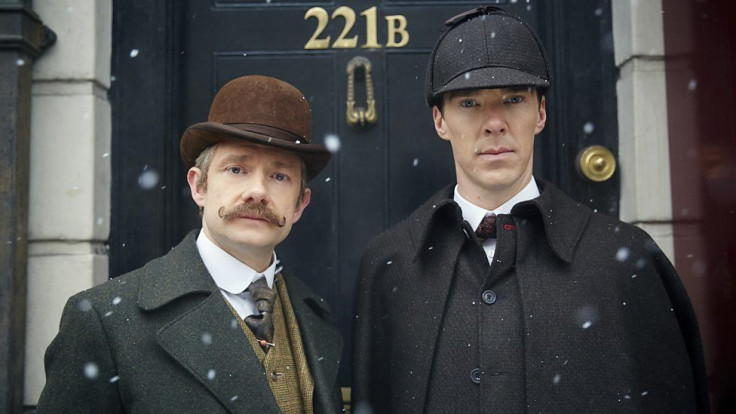 "Sherlock" series 4 may be the last one, show co-creator Steven Moffat has warned. Titular star Benedict Cumberbatch is now such a famous actor internationally, and apparently, he only does the show for his fans.
Moffat admitted to the Telegraph that the show going for another season after the fourth one could be difficult to achieve. Both Cumberbatch and Martin Freeman, who plays John Watson, are already globally famous stars, and that they are only doing the show because they want to. Therefore, it very possible that series 4 is the last one that they would do.
"I don't know how long we can keep it going. I'm personally willing but I'm hardly the main draw," he said. "I would be moderately surprised if this was the last time we ever made this show. But it absolutely be."
He added, referring to Cumberbatch and Freeman, "We do have two film stars in the program. They haven't needed to do these jobs for a very long time. They're coming back because they want to."
On why "Sherlock" only has three episodes each season and a couple of specials in between, Moffat said it's just the way how the show goes. "There's never going to come a time when we do a longer run, because this is what the series has become. It's an occasional treat where you get three movies. It's how it works," the exec producer said.
The number of episodes per series and the lengthy hiatus between seasons have long since frustrated fans. The first season aired in 2010, then the second in 2012 and the third in 2014. It has special episodes in between the seasons, though, the Christmas mini-episodes in 2013 and "The Abominable Bride" earlier this year.
The number game appears dismal compared to other shows, which normally have 20 plus episodes per season, but each episode of "Sherlock" has a running time of about 90 minutes, the same as a normal-length feature film. So in a way, Moffat and co-creator Mark Gatiss produce three films shown on TV per season.
Although Moffat said the fourth series could be the show's last, he thought that both Cumberbatch and Freeman could return to making the show someday.
"That's why I think it's unlikely that we've completely finished it. There would be nothing strange in stopping for a while. It could go on forever, coming back now and again," he told the Telegraph.
The official Twitter page of "Sherlock" teased fans on Friday a new addition to the cast. It appears television's favourite high-functioning sociopath has a furry new assistance.
"Sherlock" returns for a fourth season in 2017. Actor Tony Jones is joining the cast as an unnamed villain.
Read: 'Sherlock' season 4 spoilers: Toby Jones talks baddie character; Benedict Cumberbatch on-set photos leaked
MEET IBT NEWS FROM BELOW CHANNELS