'Shadowhunters' Season 2 episode 17 spoilers: Jace and Clary search for the Mortal Mirror in 'A Dark Reflection'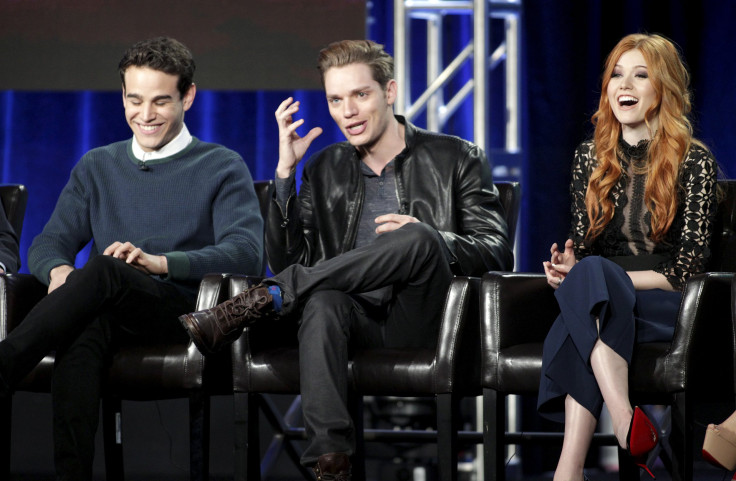 The "Shadowhunters" TV series, starring Dominic Sherwood as Jonathan Christopher "Jace" Wayland, Alberto Rosende as Simon Lewis and Katherine McNamara as Clarissa "Clary" Fairchild, will have a brand new episode titled "A Dark Reflection," which airs on July 24 on Freeform. It will feature Clary and Jace searching for one of the missing Mortal Instruments. Read on to learn more.
Spoiler alert: This update contains more 'Shadowhunters' spoilers. Read on only if you want to know more about what happens in 'A Dark Reflection.'
"Shadowhunters" season 2, episode 17 will show Jace and Clary searching for The Mortal Mirror. According to a Freeform press release, it is one of the two missing Mortal Instruments they must locate before it is found by the enemy and used for evil purposes. Along the way, Clary will realise that Jonathan (Will Tudor) is closer than she originally thought.
As for Maia (Alisha Wainwright), she will find it challenging to put her guard down when she's with Simon. She'll also struggle with his feelings for him. Elsewhere, Isabelle (Emeraude Toubia) finds it difficult to deal with the fact that Max (Jack Fulton) is growing up.
'A Dark Reflection' guest stars
According to the Internet Movie Database (IMDb), the following stars will appear in this episode: Lisa Berry as Cleophas Garroway, Rachelle Ganesh as a Circle Member, Jordan Johnson-Hinds as Gideon, Vanessa Matsui as Dot, Zach Smadu as Elliot and Elias Toufexis as Jonathan. They will be joined by other "Shadowhunters" cast members including Harry Shum Jr as Magnus Bane and Isaiah Mustafa as Luke Garroway. Jeffrey Hunt directed this episode which was written by Hollie Overton.
'Shadowhunters' episodes
The episode before "A Dark Reflection" is "Day of Atonement." It was directed by former "The Vampire Diaries" star Paul Wesley, and it will air on July 17. It will feature Yom Kippur, or the Jewish Day of Atonement, which Simon will have a difficult time celebrating now that he's a vampire. Maybe Wesley, who used to play a vampire named Stefan Salvatore, was able to give him tips on how to deal with a difficult situation like that.
The episodes after "A Dark Reflection," are "Awake, Arise, or Be Forever Fallen," which airs on July 31, "Hail and Farewell," which will air on Aug. 7 and "Beside Still Water" which airs on Aug. 14.
"Shadowhunters 2" airs on Netflix in Australia. It also airs on Freeform in the US on Mondays at 8 pm EST. "Shadowhunters" is based on "The Mortal Instruments" book series by Cassandra Clare. Stay tuned for more updates about the supernatural show in the coming weeks.
In case you missed it (ICYMI), check this out:
'Shadowhunters' Season 2 episode 15 spoilers: Alec and the others prepare Valentine's transportation in 'A Problem of Memory' [VIDEOS]
'Shadowhunters' Season 2 episode 16 spoilers: Simon dreads Yom Kippur in 'Day Of Atonement' [VIDEO]
MEET IBT NEWS FROM BELOW CHANNELS