Russian Soldiers Dream Of Being Injured In Ukraine, 'Getting Rich' From Disability Pay: Report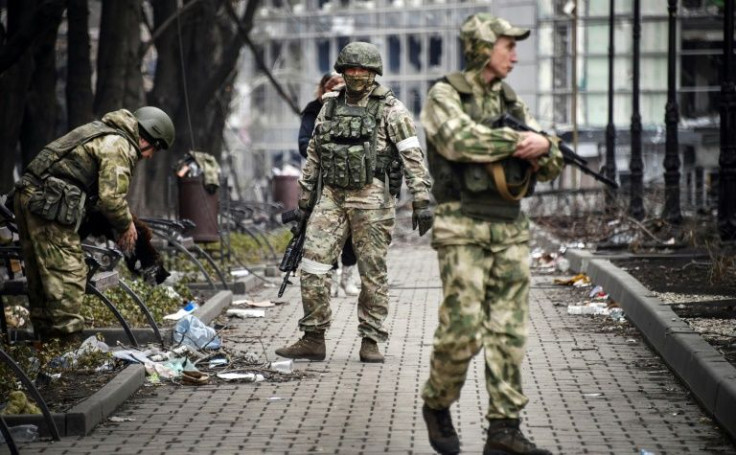 Some Russian soldiers could be dreaming of getting injured in the war in Ukraine to receive a sizable compensation when they return home.
In a newly released intercepted phone call by Ukraine's Security Service, a Russian soldier was recorded telling his wife that he would get millions in compensation should he get wounded amid the invasion.
"A splinter in my leg, I was tormented for two months, you got it, sewed it up, stabbed it. Even if it's in your hand, it's okay… Even if you're limping, it's three million…," the Russian soldier told his wife.
The soldier's wife rejoiced in the prospect of being "millionaires" and told her husband her plans to buy a car and a machine gun, among others.
"I'm buying a car, we're buying it for you!" As you wanted, on a machine gun of some kind. We will buy the rights for you and me at once, we will go to some boutique, we will dress there for 500 thousand, and we will go to a specific distance," the wife said.
Since the invasion began on Feb. 24, Ukrainian forces have killed at least 20,100 Russian soldiers and downed 163 Russian aircraft, 762 tanks, 66 anti-aircraft warfare systems and 1982 armored personnel vehicles, according to a tweet from Ukraine's Ministry of Foreign Affairs.
The North Atlantic Treaty Organization (NATO) earlier estimated that Russia had lost about 7,000 to 15,000 soldiers after about four weeks into the invasion of Ukraine. Overall, the alliance estimated that up to 40,000 soldiers are dead, wounded, captured or missing. The Ukraine war has entered its eighth week now.
Apart from the estimates, more than 7,000 Russian soldiers' bodies are still stored in morgues and refrigerated rail cars across the country, Oleksiy Arestovych, adviser to the head of Ukraine's presidential administration, told The Washington Post.
In Dnipro, Ukraine, more than 1,500 dead Russian soldiers are still being kept in morgues, the city's deputy mayor Mykhailo Lysenko said on the TV channel Current Time.
Russia has refused to acknowledge its high death toll. On March 25, Kremlin claimed only 1,351 of its personnel have died in the war. Some reports also claimed Russia was transporting thousands of its dead soldiers to Belarus in an attempt to disguise its losses.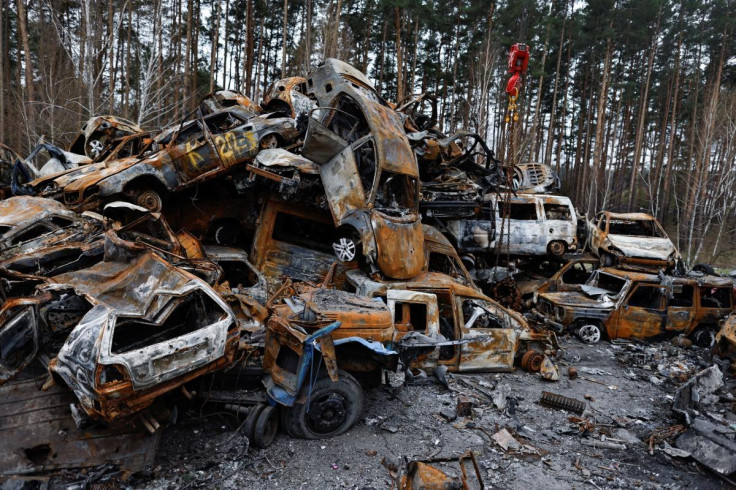 Cars destroyed amid Russia's attack on Ukraine are seen, after they were collected from different places, in Irpin, Kyiv region, Ukraine April 18, 2022. Photo: Reuters / ZOHRA BENSEMRA
MEET IBT NEWS FROM BELOW CHANNELS