'Rogue One: A Star Wars Story': Two major actors not in the movie; K-2SO scene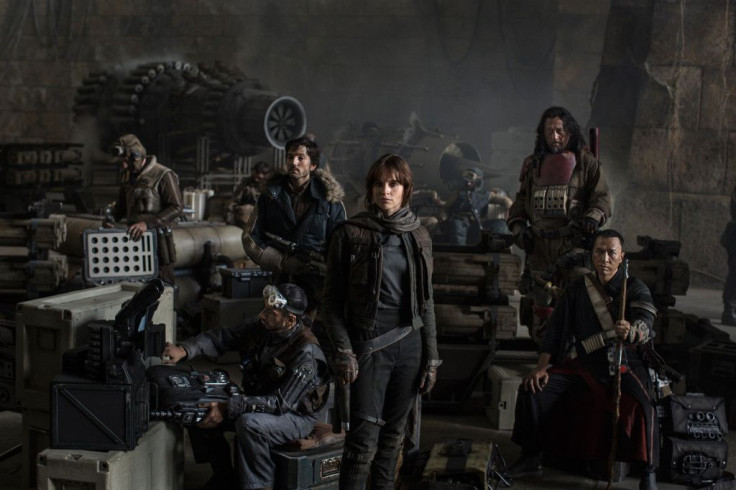 Two major actors are not featured in "Rogue One: A Star Wars Story," director Gareth Edwards and LucasFilm President Kathleen Kennedy have confirmed in separate interviews. The director said that an iconic character, who plays a major role in the original trilogy, will not make an appearance in the spin-off.
[Spoiler alert]
Alden Ehrenreich will not be making his debut as the young Han Solo in the first spin-off movie from the franchise, director Edwards confirmed in an interview with Extra TV. The character played a major role in the original trilogy and was around in the galaxy in the timeline in which the spin-off is based.
Although Darth Vader has been confirmed to be a part of the spin-off, Kennedy has now confirmed that Hayden Christensen will not be reprising his role in the movie. Christensen played the role of Anakin Skywalker in the prequel movies, who slowly transformed into Darth Vader, under the guidance of Darth Sidious.
Han Solo may not appear in "Rogue One: A Star Wars Story," but given the significance of the character there will not be just one, but possibly three spin-off movies with the character as the protagonist, NY Daily News reports. An insider familiar with the developments at the studio has reportedly said that there is a lot of excitement around this character, especially since his stories need not include the Empire. This opens the door to explore more of the galaxy and encounter "crazy creatures" and introduce a "wide array" of characters.
Meanwhile, footage from the "Celebration" event in London has now been released online. The video shows a scene from "Rogue One: A Star Wars Story" involving the new droid K-2SO (Alan Tudyk). The scene shows the droid dropping the bags of the Rebel soldiers, and Tudyk explained that this is not some "go get the bags droid." The actor teased that his character in the movie is "honest," who says "unsettling things."
Credit: YouTube/ Star Wars
MEET IBT NEWS FROM BELOW CHANNELS