Robert Downey Jr and original 'Avengers' cast get matching tattoos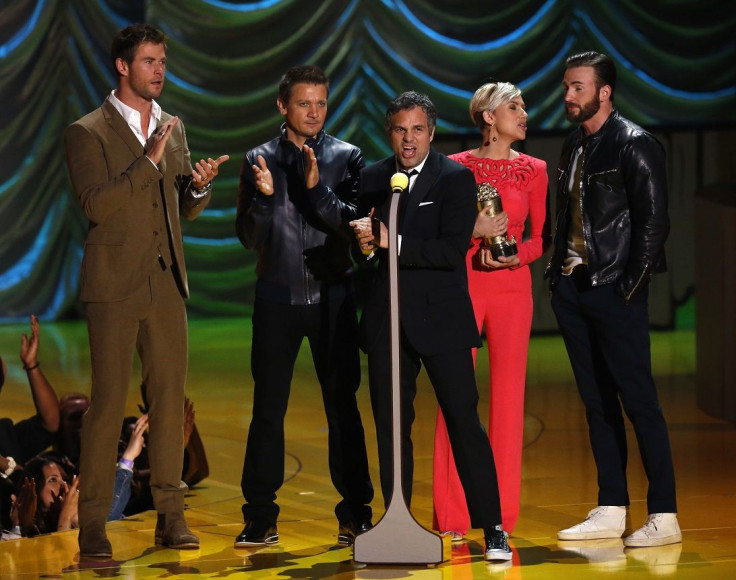 Five of the six original "Avengers" stars got matching tattoos. Robert Downey Jr, who plays Tony Stark/Iron Man in the Marvel Cinematic Universe, posted videos of himself with co-stars Chris Hemsworth, Scarlett Johansson and Jeremy Renner having their new skin art done. Chris Evans has previously got his matching tat with Johansson.
"Five of the original six Avengers got a tattoo," Downey told EW. "And the sixth was the tattoo artist, who gave it to five of us, the one who opted out being Mark Ruffalo."
Downey said it was Johansson's idea to get the matching tattoo. She already has hers done in New York with Evans. And their tattoo artist, named Josh Lord, flew out to Los Angeles to do the rest of the Avengers' tats as well.
"He did me, did Renner, and then we just bullied Hemsworth into doing it, and he got it. And each one of us drew a line on the artist with his own tattoo gun and it was a total massacre. Each of us contributed to giving the tattoo artist the sixth tattoo that he designed for us," Downey continued.
The tattoo, which was posted on EW, has the distinct "A" logo for Avengers and some lines and curves. It wasn't explained how Lord came about the design, but it could be that it had their characters' symbols as well.
The original "Avengers" in the 2012 film included Iron Man (Downey), Thor (Hemsworth), Clint Barton/Hawkeye (Renner), Steve Rogers/Captain America (Evans), Bruce Banner/Hulk (Ruffalo) and Natasha Romanoff/Black Widow (Johansson). The film surpassed US1.5 billion (AU$1.99 billion) in the box office.
All, minus Hawkeye, returned for the third film, "Avengers: Infinity War," released last month.
Here are the videos Downey posted on Instagram to document their tattoo-bonding session together.
MEET IBT NEWS FROM BELOW CHANNELS