Rafael Nadal Scores A Three-Match Victory Against Mark Philippoussis, Fernando Verdasco, and Omar Jasika In Disco Tennis Exhibition Match In Melbourne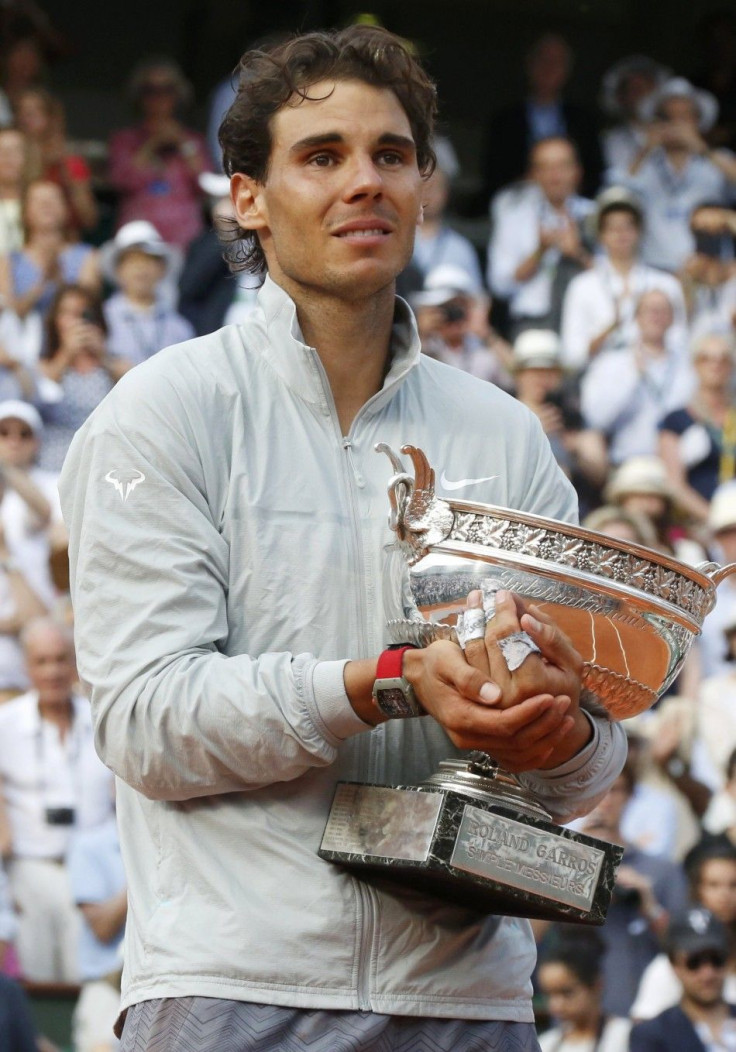 World No. 3 Rafael Nadal headlined a one-day exhibition tennis event at the newly-renovated Margaret Court Arena in Melbourne Park on Jan. 14. Nadal faced three opponents in separate matches in front of 7,500 crowd for the benefit of the Rafa Nadal Foundation, which aims to provide assistance for socially-disadvantaged people, and the Australian Tennis Foundation.
Fast4 or Disco Tennis is a faster version of the traditional tennis game that features tweaks in the official rules of the game. The new set of rules includes play lets, no advantage scoring, and tiebreaker at three games all. Lastly, the last rule is that the first player to win four games wins, hence the name, Fast4.
According to Tennis Australia, the format was introduced to speed up the action not only for the players but also for the fans. "Designed with the time-crunched player in mind, the Fast4 format means that anyone, anywhere has time for tennis. In short, Fast4 provides a simple, exciting way of speeding up a conventional tennis match."
Nadal first played against former U.S. Open champion Mark Philippoussis. He defeated the retired Aussie player, 4-1, in just 15 minutes. Then Nadal thrashed the reigning U.S. Open Junior champion Omar Jasika, 4-1, in only 17 minutes. Nadal concluded that exhibition event by winning against fellow compatriot Fernando Verdasco in a best-of-five sets match, 2-4 4-3 4-3 3-4 4-2.
"It's a great evening for a good cause," Nadal said after the matches. "We're trying to help as many kids as possible and without the support of Australian Open and without the support of all the crowd, it wouldn't be possible so I can just say 'Thank you very much everybody,' it has been a very special evening."
In the meantime, the seeds for the 2015 Australian Open has already been named, as reported on Australian Open's Web site. Nadal, who was a runner-up last year, has been named as the third seed. His rivals Novak Djokovic and Roger Federer are seeded first and second, respectively. The seedings for this year's Australian Open has reportedly followed the latest Association of Tennis Professionals, or ATP, world rankings. David Ferrer of Spain is named the ninth seed after defending US Open champion Marin Cilic pulled out because of shoulder injury. Below are the top 10 seeds for men's and women's singles at the 2015 Australian Open.
Australian Open 2015 men's seeds
1. Novak Djokovic (SRB)
2. Roger Federer (SUI)
3. Rafael Nadal (ESP)
4. Stan Wawrinka (SUI)
5. Kei Nishikori (JPN)
6. Andy Murray (GBR)
7. Tomas Berdych (CZE)
8. Milos Raonic (CAN)
9. David Ferrer (ESP)
10. Grigor Dimitrov (BUL)
Australian Open 2015 women's seeds
1. Serena Williams (USA)
2. Maria Sharapova (RUS)
3. Simona Halep (ROU)
4. Petra Kvitova (CZE)
5. Ana Ivanovic (SRB)
6. Agnieszka Radwanska (POL)
7. Eugenie Bouchard (CAN)
8. Caroline Wozniacki (DEN)
9. Angelique Kerber (GER)
10. Ekaterina Makarova (RUS)
Video source: YouTube/TQ AlShbatat
To reach the author of this article email, r.corpuz@IBTimes.com.au.
MEET IBT NEWS FROM BELOW CHANNELS