Princess Leia's marriage to Han Solo was not a happy one; Couple was 'estranged'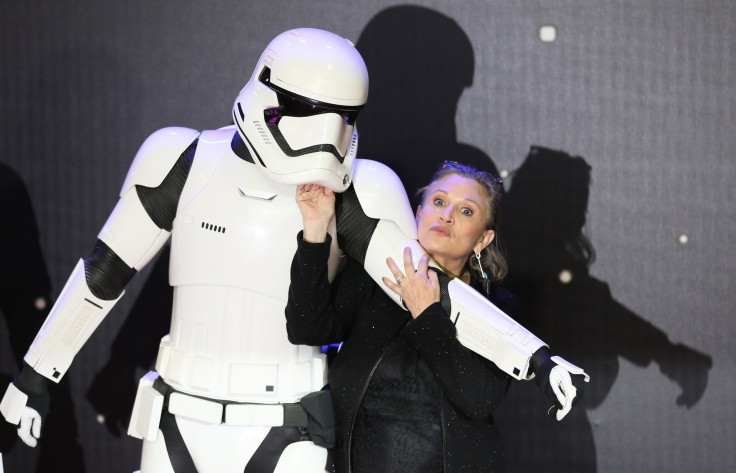 Princess Leia's marriage to Han Solo was not a happy one, Carrie Fisher revealed recently. Although the couple was not officially divorced, they were "estranged," the actress said.
At the "Star Wars Celebration" event in London, Fisher (Princess Leia) shared the stage with fellow cast member Warwick Davis in a panel discussion, IGN reports. When Davis asked her to talk about the period between "Return of the Jedi" and "The Force Awakens," the actress said "Han's funeral."
"The Force Awakens" is set 30 years after the events of "Return of the Jedi" and Han Solo (Harrison Ford) was very much alive in the movie. Realising her mistake, Fisher quickly corrected herself and talked about the relationship between Princess Leia and her husband.
The actress said that her character and Han Solo had a "very volatile relationship," and this led to the couple being "estranged." Fisher said that the problems in their relationship led to a "space divorce," before correcting herself again. The two characters weren't officially divorced as per the "Star Wars" canon.
Perhaps the main reason for the two characters to be separated was their son Ben Solo (Adam Driver), and Fisher hinted at this when she said that her character had a son who turned out to be (Adolf) Hitler. She explained that anyone would feel bad if their child did the things Ben did in the period before "The Force Awakens."
Fisher joked that she spanked Driver when she first met him and that the spanking "felt good." Both the actress and her fellow cast member will be reprising their roles in "Star Wars: Episode 8," which wrapped filming recently.
More details about Princess Leia and the events prior to "The Force Awakens" can be found in the canon book "Star Wars: Bloodline." The book has been written by Claudia Gray and has Fisher's character as the protagonist.
MEET IBT NEWS FROM BELOW CHANNELS