'Pretty Little Liars' Series finale additional spoilers: It's #PLLGameOver for Aria, Emily, Hanna, Spencer, Ali and AD in 'Til DeAth Do Us PArt' [VIDEOS]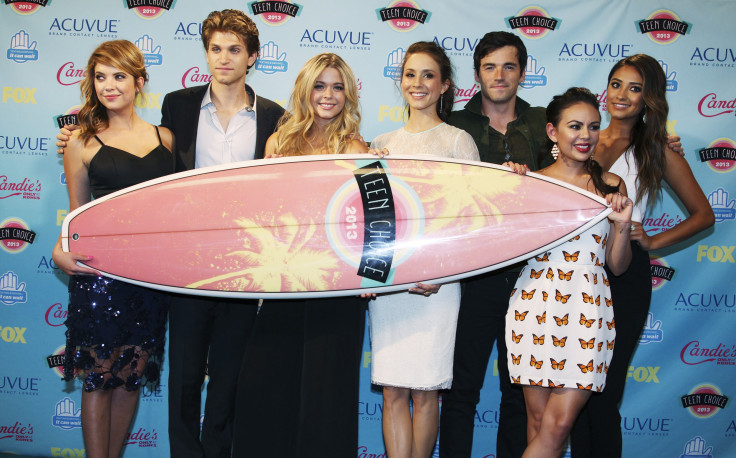 "Pretty Little Liars" (PLL), starring Lucy Hale as Aria Montgomery, Shay Mitchell as Emily Fields, Troian Bellisario as Spencer Hastings, Ashley Benson as Hanna Marin and Sasha Pieterse as Alison DiLaurentis, will have its series finale titled "Til DeAth Do Us PArt," which airs on Freeform in the US on Tuesday, June 27. It will feature AD's ultimate endgame for Aria, Emily, Spencer, Hanna and Ali. Read on to learn more about the "PLL" series finale.
Spoiler alert: This article contains additional 'Pretty Little Liars' spoilers. Read on only if you want to know more about what happens in 'Til DeAth Do Us PArt.'
#PLLGameOver
According to Zap2it, in the "Pretty Little Liars" season 7, episode 20, every secret will finally be revealed as AD's deadly game comes to a close. What will happen to the "PLL" girls and their loved ones in the ultimate endgame? Also, the real AD will finally be revealed in the show's two-hour series finale. This special episode was directed by showrunner and executive producer I. Marlene King, who also wrote the story with Kyle Bown. Aside from this, King wrote the teleplay along with Maya Goldsmith.
A preview of this episode was uploaded on the official YouTube channel of Freeform. It shows several scenes including Spencer telling the other girls about the only rule that matters: They can't look back. As for Aria, she tells her friends that she can't marry Ezra (Ian Harding). It also shows Mona (Janel Parrish) getting surprised by someone who seems to be the true AD. "I never would have guessed it was you," Mona says in the "Pretty Little Liars" preview video. Watch it at the end of the article.
'Til DeAth Do Us PArt' guest stars
The Internet Movie Database (IMDb), lists the following stars as appearing in this episode: Keegan Allen (Toby Cavanaugh), James C. Bristow (Cop / FH), Huw Collins (Dr Elliott Rollins / Archer Dunhill), Andrea Parker (Mary Drake / Jessica DiLaurentis), Mary Page Keller (Dianne Fitzgerald), Ava Allan (Addison Derringer), Holly Marie Combs (Ella Montgomery), Torrey DeVitto (Melissa Hastings) and Lesley Fera (Veronica Hastings). They will be joined by Laura Leighton (Ashley Marin), Chad Lowe (Byron Montgomery), Jim Titus (Detective Barry Maple), Ana Markova (Ava), Raquel McPeek Rodriguez (Claire), Brendan Robinson (Lucas Gottesman), Tammin Sursok (Jenna Marshall), Julian Morris (Wren Kingston), Nia Peeples (Pam Fields), Vanessa Ray (CeCe Drake / Charlotte DiLaurentis), Celesse Rivera (Hadley) and Sydney Sweeney (Willa). I. Marlene King will also make an appearance.
'Pretty Little Liars' recap
The episode before "Til DeAth Do Us PArt" was "Farewell, My Lovely," which aired on Tuesday, June 20. It was written and directed by Joseph Dougherty. It showed Caleb (Tyler Blackburn) telling the girls that Mona has AD's boardgame. This led them to believe that Mona was AD. Meanwhile, Mary Drake put the Lost Woods Resort in Spencer and Ali's names.
The final two puzzle pieces of AD's game were waiting for Ali and Spencer back in their car. When they put the pieces in the game, it revealed the grand prize which is a picture of Archer. They eventually found out that Archer was buried in Charlie's grave. Mary claimed that she murdered Archer. Meanwhile, a flashback showed Mona pushing Charlotte from the window. This revelation saved Aria, Emily, Spencer, Ali and Hanna from a murder charge.
"Pretty Little Liars" episodes air on Wednesdays at 8:30 pm in Australia on FOX8. The "PLL" two-hour series finale will air in the US on Freeform from 8-10 pm ET/PT. After that, the A-List Wrap party will air at 10/9c.
Watch the 'Pretty Little Liars' Series finale videos from the show's official YouTube channel and Facebook (FB) page:
Source: Freeform/YouTube​
In case you missed it (ICYMI), check these out:
'Pretty Little Liars' season 7 finale spoilers: AD's identity finally revealed [Video] ​
'Pretty Little Liars' Season 7 episode 19 spoilers: #PLLEndGame is near as the girls prepare to confront the real AD in 'Farewell, My Lovely' [VIDEO]
MEET IBT NEWS FROM BELOW CHANNELS