'Outlander' season 3: All the official and leaked pictures compiled in this beautiful music video; Pictures from the set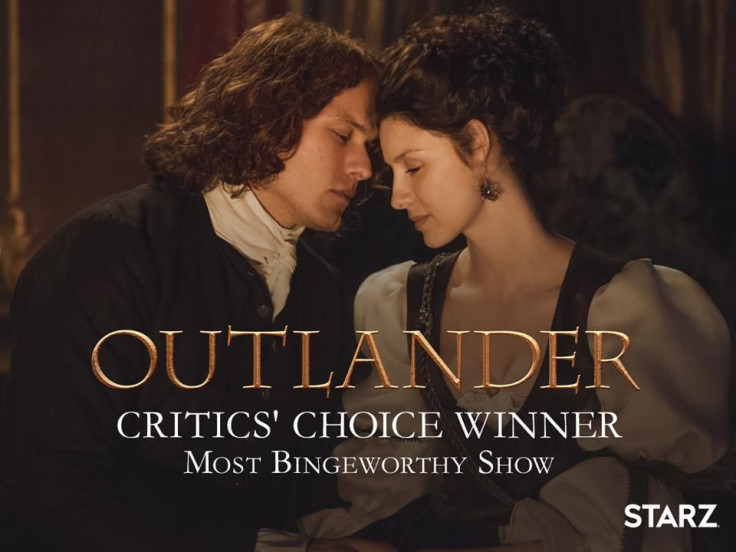 All the official and leaked pictures of "Outlander" season 3 have been compiled in a music video that has surfaced online. Meanwhile, a fan took pictures of the ship on the production set of the Starz TV series in South Africa. The following article contains spoilers.
The video posted on YouTube begins with the scene of Claire (Caitriona Balfe) and Frank (Tobias Menzies) arriving in America. The next season will pickup from this point in the flashback. The estranged couple will try to reconnect, and make their marriage work in the US, while trying to put their past in Scotland behind them.
Claire and Frank will welcome a new member of the family in the US. The official pictures from the next season show the scene of the character just after giving birth, and there is also a picture of Balfe's character taking a walk in the park with her baby.
The fans got some teasers of how Claire and Frank will look as they grow older. The challenges in the marriage will remain in "Outlander" season 3. One of the pictures shows Frank holding his wife's hand, in what maybe a scene of them arguing about something.
There are also shots of the couple in Boston. The couple, at least in the beginning, seems to have found their way into romance. However, the space Jamie left in Claire's heart may be difficult to fill for anyone else.
One of the scenes in this video shows Claire in 1954 in Boston, with what appears to be young Brianna in a library. Some of the other pictures are from other TV shows that have been added to give the fans a taste of what the next season could look like.
There are also some behind-the-scenes pictures that leaked online while the filming was still taking place in Scotland. The pictures tease the scenes that will come after Claire's reunion with Jamie, and how the two characters are forced to take a journey across the sea after their world gets turned upside down after they meet.
Meanwhile, one of the fans took pictures of a ship while driving past the "Outlander" season 3 set in Cape Town, South Africa. The pictures have been posted on Facebook. None of the cast members can be seen in the pictures, but the fans can get a closer look at at least one of the ships that is being used by Starz.
MEET IBT NEWS FROM BELOW CHANNELS