New 'Terminator' movie: Arnold Schwarzenegger teases battle scars and reunion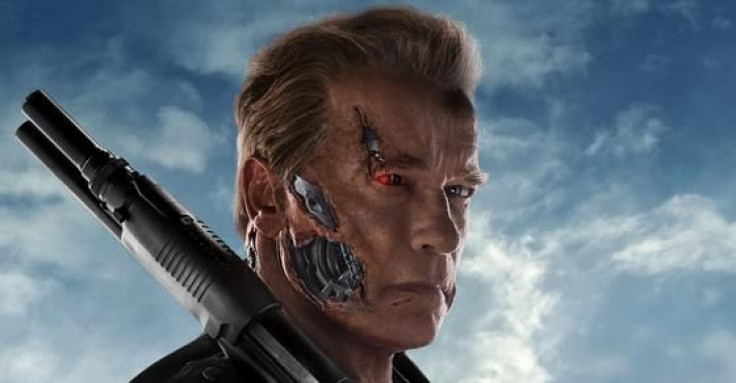 Filming of the new "Terminator" movie has begun. Arnold Schwarzenegger is reprising his titular role, and the actor recently shared a picture from the production set online. The film will be bringing back a familiar face that the fans of the franchise should recognise.
Linda Hamilton is back as Sarah Connor in the upcoming film. The fans will remember her as the mother of the leader of the human resistance movement against Skynet, the artificial intelligence that wages war against the human race in the future.
The picture Schwarzenegger shared online [see below] shows two pictures placed side by side for comparison. The first is a behind-the-scenes picture that was taken while filming the original from the franchise, and it is placed next to a picture that was taken more recently on the set of the upcoming movie.
Schwarzenegger is in full makeup, showing battle scars that expose the metallic exoskeleton of his character. The actor appears to be portraying an aged Terminator, with grey-white hair and beard. It remains to be seen if some movie magic will be used to de-age the character or another younger character is created for the movie.
The picture was shared to wish Hamilton on her birthday. It looks like she spent the day filming. The actress is reprising her role after nearly three decades. She played Sarah last in the 1991 film "Terminator 2: Judgment Day."
"Happy birthday to my dear friend Linda Hamilton. One of my favorite co-stars, a true badass, and a wonderful human being. I'm pumped to be back together again," Schwarzenegger wrote in the post.
The untitled "Terminator" reboot is being directed by Tim Miller. The movie is set to be released on Nov. 22 in the US. The producers are yet to announce a release date for Australia.
Credit: Arnold Schwarzenneger/ Instagram
MEET IBT NEWS FROM BELOW CHANNELS