'New Girl' season 6, episode 20 spoilers, recap: Jess gets some tough love on 'Misery'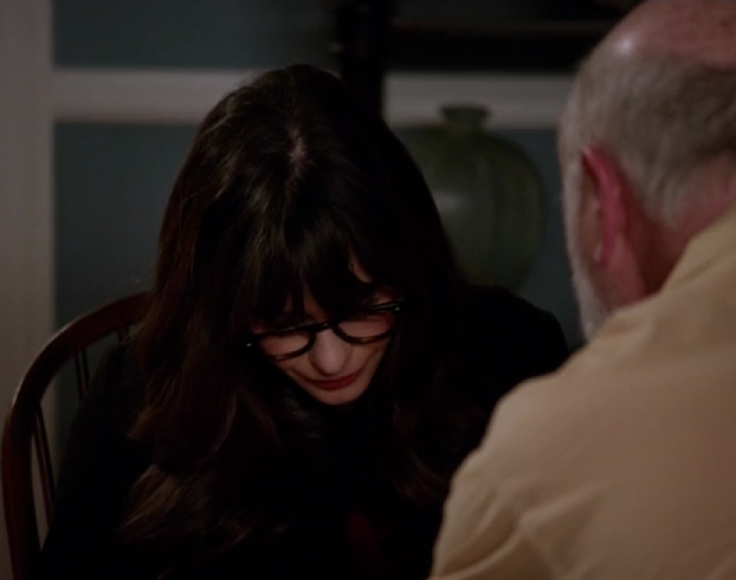 On "Misery," Jess (Zooey Deschanel) wants to stay in Portland with her dad while Reagan (Megan Fox) takes Nick (Jake Johnson) to her pharmaceutical company's convention. Winston (Lamorne Morris), meanwhile, tells Aly (Nasim Pedrad) to lie about their law enforcement careers while his mom is in town on "New Girl" season 6 episode 20 (New Girl 6x20).
Spoiler alert: This recap contains plot details about "New Girl" season 6. The sixth season premiered Sept. 20. The show is available in Australia via Fox8.
Jess decides to stay in Portland with her dad, Bob (Rob Reiner), where she showed up unannounced. Problem is, after only a day of being together, he tells her to pack it up. Jess makes it seem that her dad actually needs her presence there, and does unnecessary chores for him like cleaning his bowling trophies, reading him stories, clipping his toenails and fixing him food he doesn't like.
When Bob can no longer take it, he firmly tells Jess to go back to California. Jess finally tells her dad that she's in Portland in order to put her feelings about Nick into perspective. Bob then tells her that she doesn't have to face the music if she's not ready, and lets her stay.
Before his mom Charmaine (Anna Maria Horsford) arrives for a visit, Winston tells Aly that his mother doesn't know the fact that he's a police officer. All Charmaine knows is that her son is a DJ at a radio station, which the over-protective mother considers a safe job. Aly has no choice but to cover up for him, and she too lies about her job, which is the same as him.
Aly then discovers that she and Charmaine share the same love for bargain deals. At the risk of ruining her strong start with Winston's mom, Aly admits to being a police officer, which Charmaine appreciates and lauds her for. But when Winston does the same, he gets the opposite reaction.
Charmaine later confesses that Winston's father is also a cop, who left her his badge before bolting. She says it may be the reason why she has been over-protecting his son all his life, as law enforcers are always at risk. Charmaine then insists that Winston keep his father's badge, and tells him she's proud of him.
Reagan takes Nick to her company's "drug party," where Nick discovers a lot of things about her girlfriend that they never talk about. The two have never felt the need to discuss major details about each other just to make a point that they're not like other couples. Nick gets upset when Reagan admits that everybody at the party has had sex with one another. It turns into shock and anger when he finds out from the convention crowd that Reagan is a former ballerina and is up for a huge promotion.
Nick tries to call Jess but she doesn't answer. He leaves a voice message, saying he's falling apart and that he needs to get a hold of her. Nick and Regan then have a conversation – one that they've never had before – where Nick admits he wants more from their relationship. When Reagan tells him that she'd be taking the promotion if Nick wasn't her boyfriend, he tells her to grab it, and that he's happy for her.
Meanwhile, at the loft, everybody is questioning why Schmidt (Max Greenfield) and Cece (Hannah Simone) are there when they already have their own house. Schmidt, in their defence, says that they can be there for no reason at all and that the rest of the gang should benefit from their presence as "married homeowners." The married couple even tries to give out unsolicited advice to the other pairs, who really aren't having any of it. But by the end of the episode, Nick admits that he's glad they were there for him, especially since he doesn't think it's ever going to work out with Reagan.
RELATED ARTICLES:
MEET IBT NEWS FROM BELOW CHANNELS