NBA Playoffs: Rockets vs Thunder is marquee first-round match to watch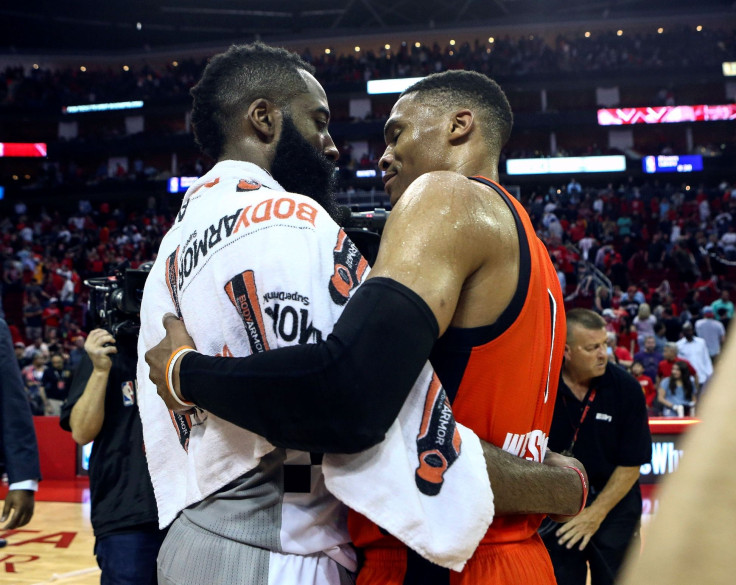 The NBA postseason match-ups have been set, with some pairings expected to close. A look at the Western Conference offers one of the best clashes to look forward to: the Houston Rockets meeting the Oklahoma City Thunder.
Contrasting storylines
Both teams carry interesting storylines this season. On one end are the Houston Rockets, most overlooked following a disappointing 2015-16 NBA season. Dwight Howard was dealt with, and James Harden was erratic. Mike D'Antoni came on board, but most are aware of the bumpy stints the coach had in the past.
To everyone's surprise, D'Antoni hit it well with the Rockets. There was no need for an all-star center as Harden finally lived up to his franchise player tag. He had good numbers to show, putting up triple-double numbers to boost the Houston quintet.
While his numbers were surreal, most paid attention to the rivals – the Oklahoma City Thunder. It was the start of the Russell Westbrook era, and the all-star guard did not disappoint.
By comparison, he was a monster since Kevin Durant left to join the Golden State Warriors. A favorite to win the NBA Most Valuable Player award, he made history, erasing the previous mark of Oscar Robertson, Fox Sports reported. But don't tell that to Harden, who has a fair chance to win the award as well.
Losing MVP candidate will get motivation
It remains to be seen who between Russell and Harden will be officially adjudged the NBA MVP. It all boils down to media votes, the forecasts hard to call.
The bottom line here is that whoever comes in second will have something to prove. It may not be much, but losing out on the prestigious individual NBA award will provide extra motivation to prove he is the best, NBA.com reported.
If Westbrook falls short, it may not matter. For him, what matters most is proving he can be the cornerstone for Billy Donovan. He has proven so in the regular season, where everything goes up a notch in the NBA playoffs.
On the other end, Harden knows how the attention has been on Westbrook. They do have home court advantage, so he will try to continue and do as much damage as he can. The NBA MVP award is something, but whoever leads the team into the next round would matter more.
Harden could be lacking in attention for the NBA MVP run, but Westbrook faces something harder. That is, the lack of support to lead the Thunder deeper into the playoffs if no one steps up.
MEET IBT NEWS FROM BELOW CHANNELS