NBA Execs Believe Cleveland Cavaliers Will Eventually Trade Kevin Love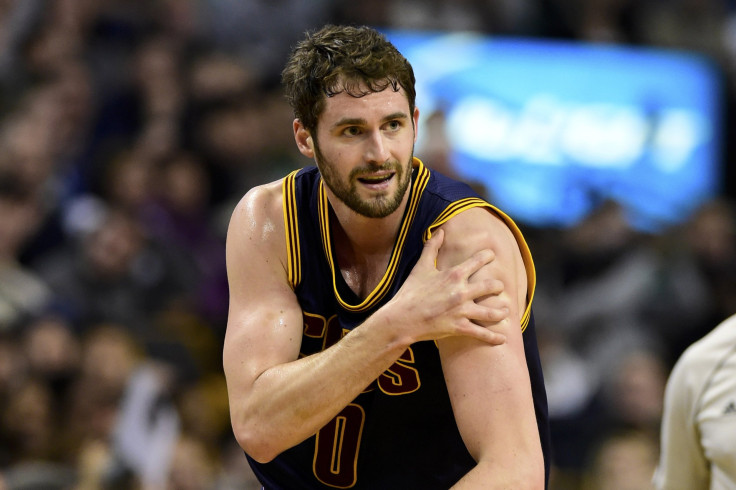 Several NBA executives predict that the Kevin Love-Cleveland Cavaliers partnership will not last long, despite the recent commitment forged by both sides in the first day of free agency. The 26-year-old Love signed a five-year extension worth $110 million that had no trade clause, essentially handing over his prime years to the franchise.
The Cavaliers have been saying all the right things about keeping Love and the rest of its core. True to the organization's commitment, Cleveland already nabbed Love, extended Iman Shumpert to a 4-year, $40 million deal, and is completing the final stages of securing both Australian back-up point guard Matthew Dellavadova and power forward Tristan Thompson. Rival executives are hoping that the duplicate roles in the power forward position will force the hand of General Manager David Griffin and eventually include Love in a blockbuster deal somewhere during the UCLA standout's five-year deal.
"Maybe in February or in the summer, you could see Love being talked about," one league executive told Sporting News. "If he stays healthy next year, that is what is most important. If he plays 75 games or so, then he is still going to have a lot of value, even if his numbers are not great. So it is still a chance for them to get assets going forward and if you gave up the No. 1 pick, you need to be able get something that will help long-term."
Nevertheless, Love showed his loyalty to coach David Blatt's squad despite getting a lot of flak during the course of the 2014-2015 season. Both sides expressed interest in renewing the commitment even when Love unexpectedly went down with a torn rotator cuff shoulder injury during the first round series against the Boston Celtics. Griffin maintained that the core of the group what its finest, recording a 33-3 record after making the major trades that brought Shumpert, J.R. Smith and Timofer Mozgov to support the Big Three of LeBron James, Love and Kyrie Irving.
The case for executives predicting a fallout somewhere along the long-term pact may just be wishful thinking to pry away a key piece in the formidable squad or a wishful thinking about the Cavaliers squad repeating the chemistry issues it faced during the first year of the group. History dictates the other way as attested by James' Miami Heat squad that went through the same issues in its first year only to capture the next two NBA championships.
For concerns on this story, contact the author at hidalgovincentpaul@gmail.com.
MEET IBT NEWS FROM BELOW CHANNELS