NBA: Andre Iguodala likely moving as Golden State Warriors try to stay within cap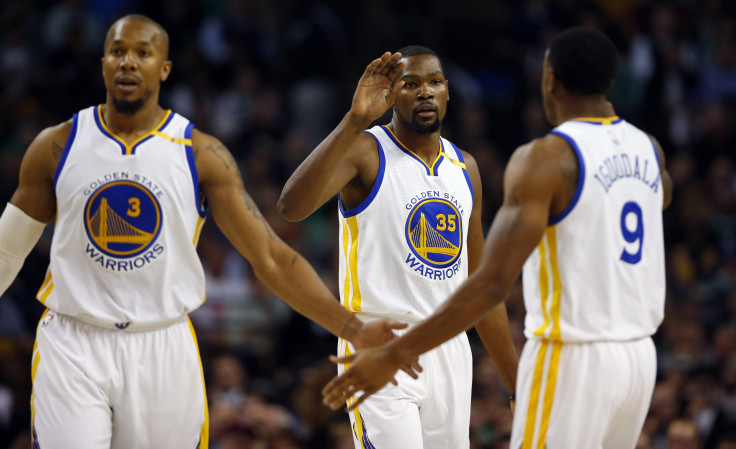 Andre Iguodala is best remembered as the 2015 NBA Finals MVP, the player who stepped up for the Golden State Warriors. The 33-year-old won his second title recently and a potential third NBA title may be with a different ballclub.
Iguodala started his career with the Philadelphia 76ers where he played for 10 years. He had a brief stint with the Denver Nuggets before settling down to a bench role with the Warriors. Headed to free agency, the all-star swingman could be on the move.
Multiple teams interested in
Speaking of interested teams, there is a chance that Iguodala returns to the same team where he started his NBA career – 76ers. There are about seven teams interested in adding the high-flying cager. Aside from the Sixers, reportedly interested are the Brooklyn Nets, Los Angeles Clippers, Minnesota Timberwolves, Orlando Magic, San Antonio Spurs and the Utah Jazz.
Without question, Iguodala is talented enough to garner such attention. Then again, some see it as a ploy to weaken a loaded Golden State Warriors quintet. But in the end, it may eventually depend on what Iguodala is looking for moving forward.
Iguodala may focus on individual awards
With two NBA titles already, Iguodala has achieved what any NBA player dreams of. Hence, it may not be surprising if he starts looking out for his future or individual awards.
Playing behind Steph Curry, Klay Thompson and Draymond Green, Iguodala is unlikely to fulfill his personal goals when it comes to money and awards. He almost won the Sixth Man of the Year award though the 33-year-old could target higher.
Iguodala is a flexible player who can do it on both ends of the court. He was made the NBA Defensive Teams in 2011 and 2014 so a possible target would be to make the All-NBA team. The NBA season MVP award could be a target as well but all these can only be achieved if Iguodala gets heavy exposure.
Being a tested veteran, starting for any of the seven teams mentioned could help him reach that goal. A return to Philly could be wise, seeing how he originally came from there. Aside from that, he could fit in well leading the young crop of stars.
The player support was absent the last time around so the second coming of Iguodala may result in something better. The Minnesota Timberwolves offer the same thing as well as the Utah Jazz. The rest may not be feasible unless the all-star swingman is looking to win another NBA title but with another franchise.
If the offers come flying in, the Warriors may find themselves without Iguodala next season. All that remains to be seen when the NBA free agency circus gets underway.
MEET IBT NEWS FROM BELOW CHANNELS