'My Kitchen Rules': Fight for Kitchen Headquarters reach boiling point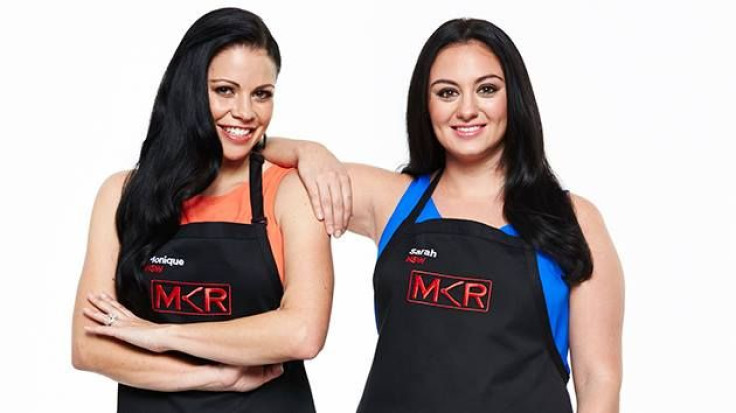 "My Kitchen Rules" (MKR) judges Manu Feildel and Pete Evans gave Sydney cops participants Monique and Sarah quite healthy scores for their second instant restaurant attempt on Sunday. However, other participants were brutal with their scores, proving that teams are ready to play the dirty game to save their own skin.
Judges gave the cops three eights as part of their overall scores. But other teams gave their preparations five out of 10 or less. Nev and Kell gave the lowest scores; just three points in total. The fight for the Kitchen Headquarters has reached boiling point. The two pairs who get the lowest scores will be sent home.
Monique and Sarah are at the bottom of the leader board with a total of 62 points out of 110. Nev and Kell are at the second spot from the bottom with 71 points. Monique and Sarah were thoroughly disappointed as the rival teams brought down their scores significantly when they didn't really deserve such a harsh treatment.
Monique has even reached out to eliminated-contestant Jessica Tichonczuk, claiming that Tichonczuk was forced to say nasty things by show producers about the food on the show, writes Herald Sun.
"When we would go to critique the food, and if I had nothing nasty to say about a plate, that wasn't good enough. (Producers) would push you and say: 'What's wrong with it? Tell us what's wrong with it?'" Monique said.
She added that "My Kitchen Rules" was about critiquing the food and not saying nasty things deliberately and that Tichonczuk never wanted to say anything nasty to anyone. According to Monique, Tichonczuk is a lovely caring lady deep down, though she has been smashed in the media.
During their performance, Monique and Sarah served pea and ham soup as entree, rabbit pie for the main and profiteroles for dessert. While the judges felt that their entree missed the mark, they were extremely happy with the main and the dessert. However, fellow contestants criticised the meal heavily.
Next in line is Queensland stepmother and daughter Hazel and Lisa.
"My Kitchen Rules" continues Wednesday night at 7.30pm on Seven.
MEET IBT NEWS FROM BELOW CHANNELS