Marcus Mariota Declares For NFL Draft, Leaves Oregon Ducks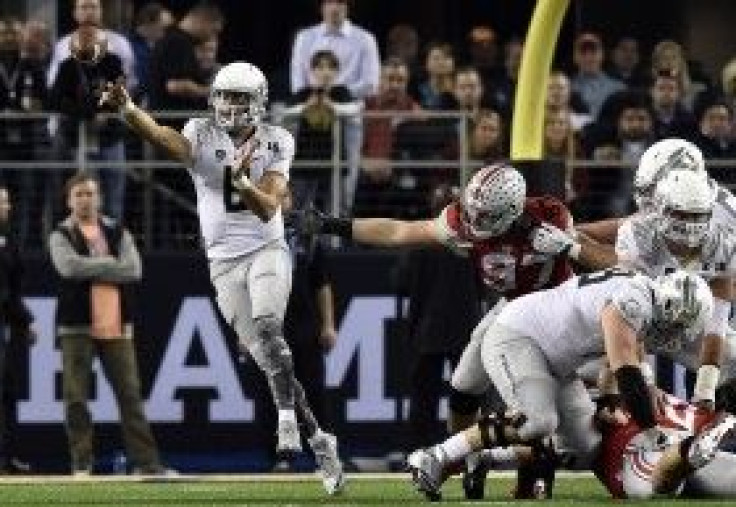 Marcus Mariota, a Heisman Trophy winner in college football, has declared his eligibility for the 2015 National Football League (NFL) Draft. Mariota will will forgo his senior season with the Oregon Ducks to go pro and join the draft where he is projected to be among the top picks if not the number one draft pick in the annual rookie selection in 2015.
"After meeting with my family I have decided to forgo my final year of eligibility and apply for the 2015 NFL draft," Mariota said in an official statement. "My four years at the University of Oregon have been an awesome experience. I cannot thank Coach Kelly, Coach Helfrich, Coach Frost, the rest of the Oregon coaches and the support staff enough for molding me as a person, player and student-athlete."
Mariota also thanked the support of his fans at the university plus his teammates and called his experience with Oregon as "something special that [he] will always treasure."
Owing to having the worst record at 2-14 in the regular season in 2014, the Tampa Bay Buccaneers have the top pick in the draft and are interested in bringing in Mariota. The Tennessee Titans pick second while the Jacksonville Jaguars, Oakland Raiders and Washington Redskins round out the first five picks in the draft.
"It's been an honor to watch Marcus develop over the last four years, and I'm excited to see what his future holds," Oregon coach Mark Helfrich said in another statement. "He's given this program everything we could have asked, and he'll be the standard by which others are judged. Mahalo."
Mariota announced his decision to go pro after the the Ducks lost to Ohio State, 42-20 in the College Football Playoff National Championship last Tuesday. In his career with Oregon, Mariota led his team to 36-5 record with a national title game appearance. In 2014, Mariota became the first Oregon Duck to win the Heisman Trophy.
To contact author of this article email j.gloria@IBTimes.com.au
MEET IBT NEWS FROM BELOW CHANNELS