Julie Bishop confirms her advisor was present when Turnbull planned to challenge Abbott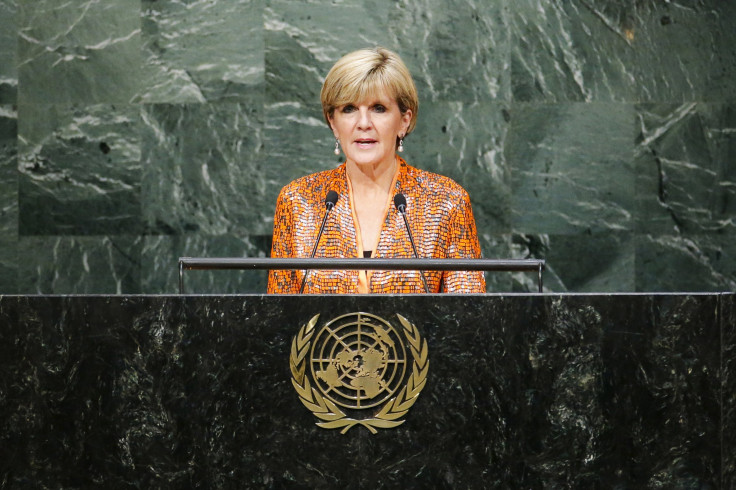 Fresh claims that Julie Bishop was involved in the downfall of former prime minister Tony Abbott has forced the foreign minister to admit on Thursday that her chief of staff was at a meeting that decided that Malcolm Turnbull would be challenging Abbott for the party leadership.
The furore over Bishop's involvement comes off the back of a new book by Sky News commentator Peter Van Onselen and academic Wayne Errington, "Battleground." The Australian, relying on the sequence of events detailed in the book, reported that Bishop's chief of staff and long-time advisor, Murray Hansen, had attended an evening gathering on Sep. 13 that plotted Turnbull's leadership coup the next day.
"Nothing that has come out in this story contradicts anything that I have said publicly," Bishop told reporters on Thursday.
"I did not know who would be attending the meeting," she insisted. "When I learned who was there on the Monday morning and when cabinet ministers came to see me, I made the first opportunity available to see the prime minister."
Abbott supporters are now asking for explanations from the foreign minister, in spite of her insistence in being unaware of any such plotting against the ex-PM. Former Liberal Minister Eric Abetz demanded a justification for the presence of Bishop's chief of staff at the gathering, and his involvement in the plotting. Liberal Cory Bernardi also noted that if Bishop's advisor had acted without her knowledge, then his position must be reconsidered.
Deputy Labor leader Tanya Plibersek did not shy away from joining the discussion, telling reporters that "it was plain she [Bishop] was up to her neck in the bringing down of Tony Abbott."
However Julie Bishop insists that as deputy leader, it was her duty to know what fellow party members were thinking and connect with backbenchers, either via her staff or personally herself.
Contact the writer at feedback@ibtimes.com.au, or let us know what you think below.
MEET IBT NEWS FROM BELOW CHANNELS