Jakarta explosions, terror attacks: Several bomb blasts, gunfire kill at least four near Sarinah shopping mall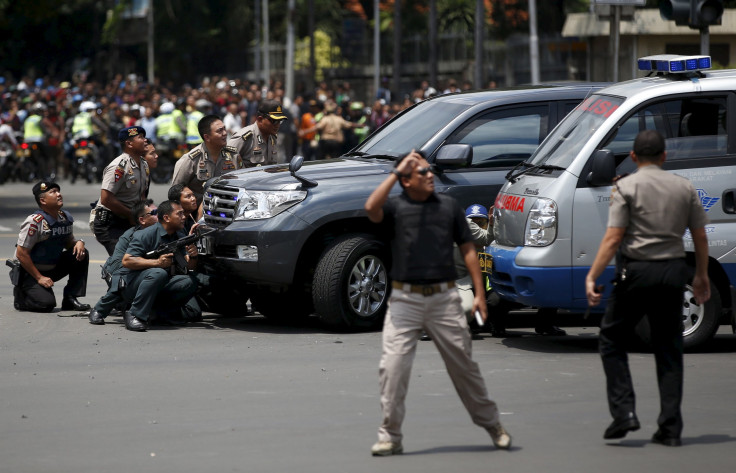 Update 5.55pm AEDT: AP has quoted police spokesman Col. Muhammad Iqbal as saying four attackers have been killed in attacks in Jakarta.
---
At least six people, including three policeman, have been killed in Jakarta after multiple blasts went off near Sarinah shopping mall in the heart of the Indonesian capital on Thursday.
There are unconfirmed reports that one of the six dead is a UN employee, who was allegedly in a Starbucks that was struck by one of the first explosions.
According to the AP, bank security guard Tri Seranto witnessed three suicide bombers exploding themselves in the Starbucks. The blasts then led to an exchange of gunfire between the attackers and anti-terror police squads for over two hours in front of the nearby Sarinah shopping mall and a police post.
Police have cordoned off the areas in downtown Jakarta.
Via @AP: 3 bombers detonated in the Starbucks as gunmen attacked the police post nearby. #Jakarta pic.twitter.com/OfUCpjIWM4

— Alejandro Alvarez (@aletweetsnews) January 14, 2016
Several explosions also went off in various locations across Jakarta, including Cikini, Kunigan and Slipi - close to where the Turkish and Pakistani embassies are located - bringing the total number of explosions in the city to at least seven.
Local authorities suspect a suicide bomber was responsible for at least one of the blasts, but have also attributed some of the explosions to hand grenade attacks.
Video of one of the blasts in #Jakarta, via @robetbet: pic.twitter.com/ENVoascy6q

— Alejandro Alvarez (@aletweetsnews) January 14, 2016
United Nations Regional Representative Jeremy Douglas tweeted that a bomb went off in front of the organisation's new Indonesia office on Jalan Thamrin.
Douglas also noted gunfire and six bombings in the area.
Now 4th bomb and gunfight

— Jeremy Douglas (@jdouglasSEA) January 14, 2016
5th and 6th bombing

— Jeremy Douglas (@jdouglasSEA) January 14, 2016
The latest from office window. No view of scene. Seeing tactical teams going in, pic.twitter.com/abkxHNganC

— Jeremy Douglas (@jdouglasSEA) January 14, 2016
The perpetrators have not been identified at this stage, although police say up to six suspected terrorists are involved and believed to be hiding near the targeted Starbucks cafe. Indonesian media outlets are also reporting that the attackers are holed up in the Djakarta Theatre and possibly Sarinah Mall.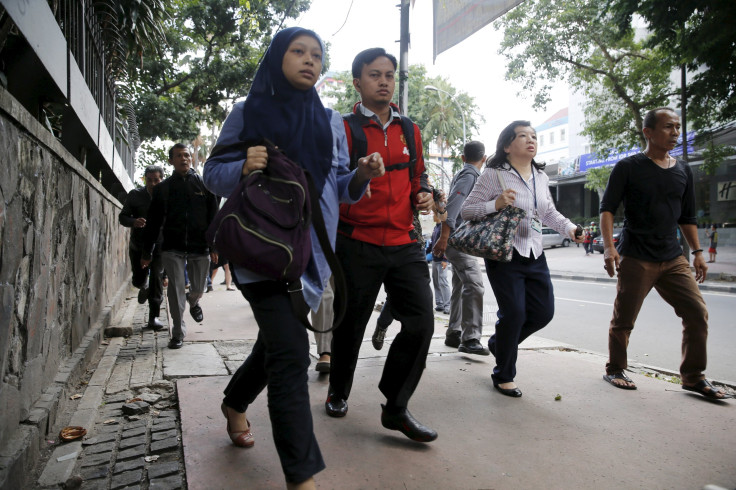 Another explosion occurred soon after news broke about the earlier blasts. Locals have been asked to stay indoors and away from public areas such as shopping malls.
"For now the gunfire has stopped but they are still on the run, we are afraid there will be more gunshots," national police spokesman Anton Charliyan, speaking to the AFP, cautioned.
The Australian embassy is now determining whether any Australians have been affected by the attacks, with Foreign Minister Julie Bishop advising Australians to avoid the area of the Sarinah Mall on JL Thamrin in Central Jakarta.
"The Australian Government condemns the attacks in Jakarta today."
"The overall level of advice has not changed and we continue to advise Australians to exercise a high degree of caution in Indonesia."
Stay calm: President Jokowi
Indonesian President Joko Widodo, who was in West Java at the time of the attacks, has ordered security forces to hunt down the perpetrators.
"I have received reports some time ago about the explosion in Thamrin street Jakarta. We express condolence to those who became victims, but we all also condemn the attack that caused restless among the community," President Widodo said.
"The state, nation and people should not be afraid of, and lose to, such terror acts," he later said on national TV.
Meanwhile, the hashtag#KamiTidakTakutg - which stands for 'we are not afraid' - is trending on social media.
Just remember! We're not affraid! #KamiTidakTakut #JakartaBerani

— lena (@824x718) January 14, 2016
You can love hate, but you cannot hate love #PrayForJakarta #KamiTidakTakut ✌_

— Novia Rahmawaty (@viarhm) January 14, 2016
Jakarta has been on high alert after receiving threats from the Islamic State in December, when anti-terror forces arrested a group of nine men who wanted to "perform a 'concert' to attract international news coverage of their existence here."
Over 100,000 police officers and soldiers were deployed on New Year's Eve to guard churches, airports and other public places, but no incidents occurred.
Thursday's bombings represent the first major attack on the state since the 2009 Marriot and Ritz-Carlton bombings, when two separate blasts timed five minutes apart killed seven people, including three Australians.
Indonesia has the world's largest Muslim population.
This is a developing story. More details to come.
MEET IBT NEWS FROM BELOW CHANNELS