'Grand Theft Auto Online: Bikers' will allow players to explore the underground world of motorcycle gangs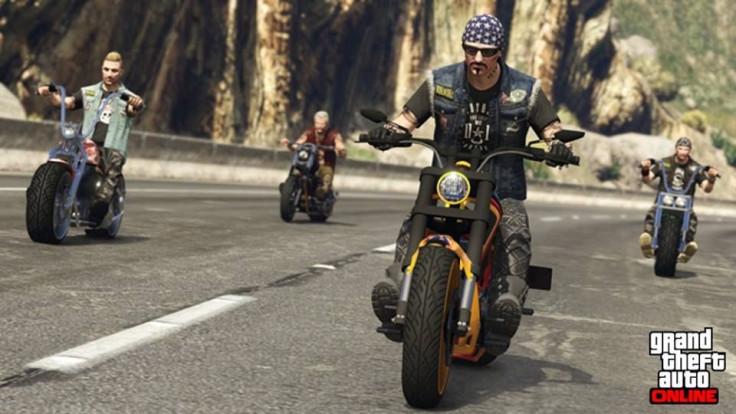 Instead of the usual map or story expansion, Rockstar Games has included an all new dimension to the world of "Grand Theft Auto Online." Via its new DLC "Bikers," the game developer will provide its players with the ability to form their own biker gangs.
According to the official website of Rockstar Games, the "Bikers" DLC will arrive on Oct. 4 as an automatic update to "GTA Online" on PlayStation 4, Xbox One and the PC. It will allow players to explore the underground life of motorcycle clubs in Los Santos and Blaine County. With the update, gamers will get to play with additional modes, vehicles, weapons and clothing.
"Bikers" will require players to climb the ranks in a motorcycle club, from a fresh prospect to the club president. Between roles, players can opt to take part in shady deals and questionable business ventures while learning the ins and outs of life within a motorcycle gang.
'Grand Theft Auto Online' newest addition: Players can dive into the dark motorcycle world in Bikers
Players will need to learn the basics of virtually riding a bike, such as popping wheelies and using melees weapons while on the motorcycle during various missions.
This is not the first time that Rockstar Games will include a bikers addition to a base game. For "Grand Theft Auto 4," the game publisher released a DLC entitled "The Lost and Damned," which also played around the idea of a biker gang. The DLC received plenty of praise from players and critics alike, so there is only upwards to go with "Bikers."
There has been no news of any additional content beyond "Bikers," so it raises the question about whether or not this will be the last update for "Grand Theft Auto 5." This chapter of the franchise has after all generated plenty of revenue for the company. "GTA Online" alone is responsible for US$500 million (AU$652 million).
If "Bikers" does prove to be the last, Rockstar Games might finally start on "Grand Theft Auto 6."
'Grand Theft Auto 6' is cancelled; Rockstar Games to focus on further developing 'Grand Theft Auto 5'
MEET IBT NEWS FROM BELOW CHANNELS