Gina Rodriguez: 'Jane The Virgin' Actress Talks About 2015 Golden Globe Awards Experience, Co-Stars Proud Of The Lead Star's Win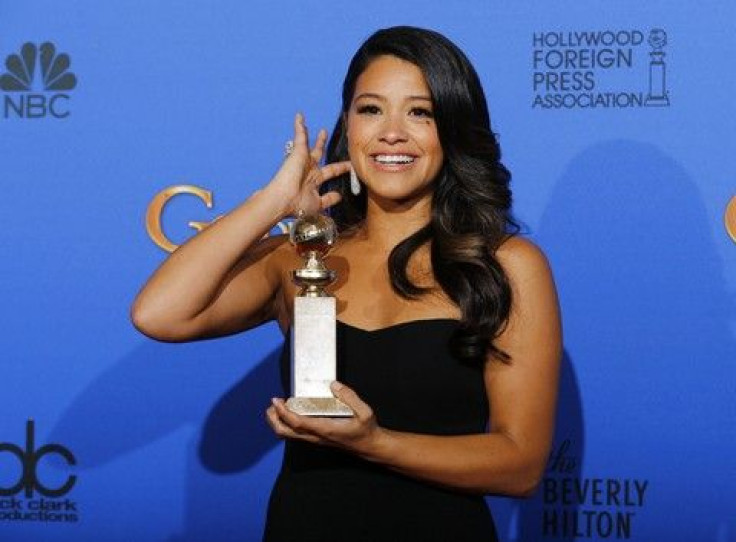 The CW Network aired the new comedy series "Jane The Virgin" last October 2014 where actress Gina Rodriguez got introduced as the lead character Jane Gloriana Villanueva and then recognized at the 2015 Golden Globe Awards. After winning the "Best Actress - Television Series Musical or Comedy" award, the 30-year-old actress talked about her experience at the star-studded ceremony held last Sunday, Jan. 11.
Gina Rodriguez described in an ETOnline report that the events that recently happened to her has been incredible and surreal. "But I can tell you that I was thinking, 'Whatever's in God's plan, I want it. Have patience and faith, all will be well'," Rodriguez shared to the reporters during an interview on the "Jane The Virgin" set on Tuesday, Jan. 13
The CW star further shared what she was thinking while walking to the stage after she was announced as the winner. "I was like, 'Don't trip. Thank you God. Thank you God. Don't trip. Don't' forget anybody's name. Was that Oprah? That was Oprah! - Oh my God. Don't trip. Breathe. You do have mascara that doesn't run. You're going to be fine, and wow - What a blessing," Rodriguez revealed with a smile.
Gina Rodriguez admitted that she and her success is nothing without her "Jane The Virgin" co-stars and executive producer Jennie Snyder Urman. The actress also hopes that the CW TV series will continue to succeed and bring in more viewers so the cast and crew can continue to work hard in entertaining the people through laughter and tears.
The "Jane The Virgin" cast members are currently proud with Gina Rodriguez's Golden Globe Awards victory. Actress Andrea Navedo, who portrays Jane's mother Xiomara on the show, got emotional when she talked about her experience of working with Gina Rodriguez.
Andrea Navedo shared that she witnessed how hard Gina Rodriguez works. The actress further added that she is so proud of her on-screen daughter and she serves as an inspiration. Meanwhile, executive producer Jennie Snyder Urman teased in an Entertainment Weekly report that Jane's virginity will still be the focus in the upcoming episodes on the second half of "Jane The Virgin" Season 1.
"The plan right now is for Jane to have sex when she gets married. That's the plan. That's important to her. That's not something that we're going to throw away," Urman explained. The executive producer and series creator also assured the fans that the fun will not end once Jane (Gina Rodriguez) and Rafael's (Justin Baldoni) baby arrives.
"There's another earthquake coming when the kid comes. To me, it's going to give us a whole bunch of fresh drama," Urman teased. "Jane The Virgin" returns with a brand new episode on Monday night, Jan. 19, at 9 p.m. ET on the CW Network.
More Articles to Read:
'Jane The Virgin' Cast Members Attend The 2015 Golden Globe Awards, Celebrate Lead Actress Gina Rodriguez's Win At Different Parties - [READ]
Gina Rodriguez: 'Jane The Virgin' Star Talks About 2015 Golden Globe Awards Preparations, Reveals Who Her Date Is At The Event - [READ]
'Jane The Virgin' Casting News: Actress Jane Seymour Lands A Recurring Role In The CW TV Series - [READ]
MEET IBT NEWS FROM BELOW CHANNELS