Former First Lady Barbara Bush, wife of George HW Bush, dies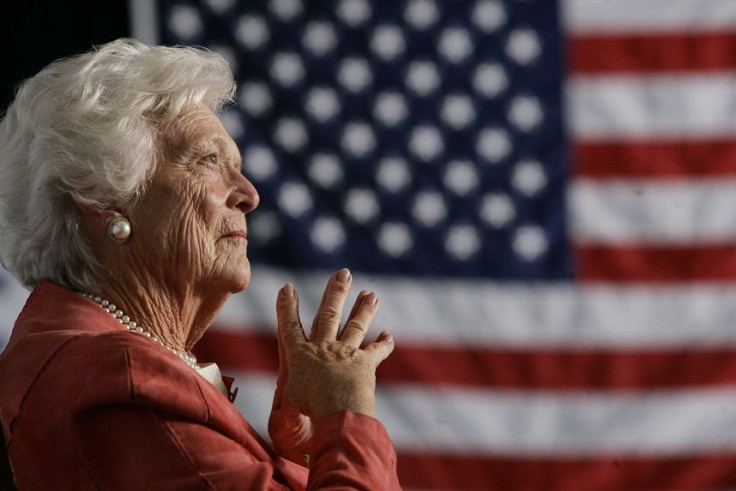 Barbara Bush, the wife of former US president George HW Bush, died Tuesday in her home in Houston, US. The former First Lady had recently been in and out of the hospital, with her family opting for comfort care instead of seeking medical treatment earlier this week. She was 92.
"My dear mother has passed on at age 92. Laura, Barbara, Jenna and I are sad, but our souls are settled because we know hers was. Barbara Bush was a fabulous First Lady and a woman unlike any other who brought levity, love and literacy to millions," a statement from her son George W Bush reads.
"To us, she was so much more. Mum kept us on our toes and kept us laughing until the end. I'm a lucky man that Barbara Bush was my mother. Our family will miss her dearly, and we thank you all for your prayers and good wishes."
Mrs Bush had been both the wife and the mother of US presidents, with her husband and her son serving in the role as the 41st and 43rd respectively. Only one other American in history could claim to both titles: Abigail Adams, who was the wife of 2nd US president John Adams and the mother of the sixth, John Quincy Adams. Bush was also the mother of Jeb Bush, the 43rd governor of Florida who unsuccessfully ran for presidency in 2016.
As First Lady, her cause was family literacy. She helped develop the Barbara Bush Foundation for Family Literacy, a non-profit organisation that seeks to improve literacy in the country for both children and parents, and became involved with many other literacy organisations. She also wrote "Millie's Book," a children's book about her English Springer Spaniel.
Barbara Bush, n é e Pierce, was born in New York to Pauline and Marvin Pierce, a publisher of popular women's magazines. She was the third of four siblings. She met George Bush when she was 16 and he was 17 at a dance while on Christmas vacation. They got engaged after 18 months and got married in 1945.
They had six children together, although the second one, a daughter named Pauline, died at the age of three of leukaemia.
Mrs Bush had suffered from Graves' disease, a thyroid ailment. She underwent small intestine surgery in 2009 and aortic valve replacement surgery in 2009. She had been receiving treatment in hospital for Chronic Obstructive Pulmonary Disease and congestive heart failure for the last few weeks. However on Sunday, her family said they decided for comfort care for the Bush matriarch instead.
She is survived by her husband, five children, 17 grandchildren and seven great grandchildren. She will be laid to rest in Texas.
Statements from the current and former US presidents
MEET IBT NEWS FROM BELOW CHANNELS