Denmark Leads The Way With Highest Tax-To-GDP Ratio - IBT Graphics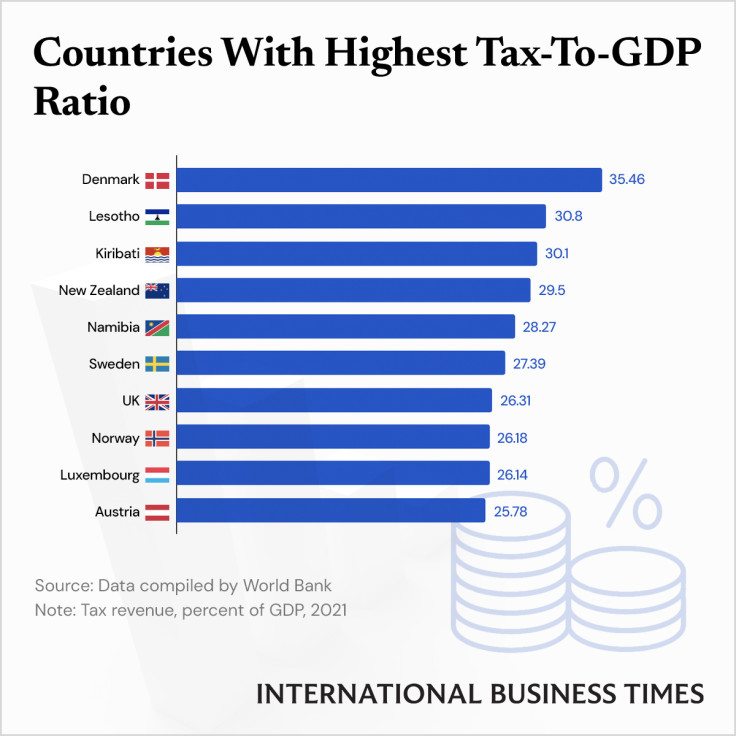 Taxes encompass an important source of revenue for several countries. For a number of nations, taxes supply 50% or more of government funds. The tax-to-GDP ratio collates the tax revenue of a country with the size of its economy, measured by the GDP.
A November 2016 research carried out by the International Monetary Fund affirms that a country should have a tax-to-GDP ratio of at least 12% to foster accelerated economic growth. The average tax-to-GDP ratio for 2021 based on 94 countries was 18.01%, up from 16.58%--the average for 2020 based on 120 countries.
At 35.46%, Denmark saw the highest tax-to-GDP ratio in 2021, compared to the lowest value of 0.54% in the United Arab Emirates, as per data compiled by the World Bank. Denmark uses a high level of its tax revenue for subsidizing post-secondary education.
Meanwhile, the U.S. ranked at 83 with an 11.23% tax-to-GDP ratio, even though the country has one of the highest GDPs per capita.
© Copyright IBTimes 2023. All rights reserved.
MEET IBT NEWS FROM BELOW CHANNELS