'Coronation Street' spoilers for Aug. 21: Macca visits Shona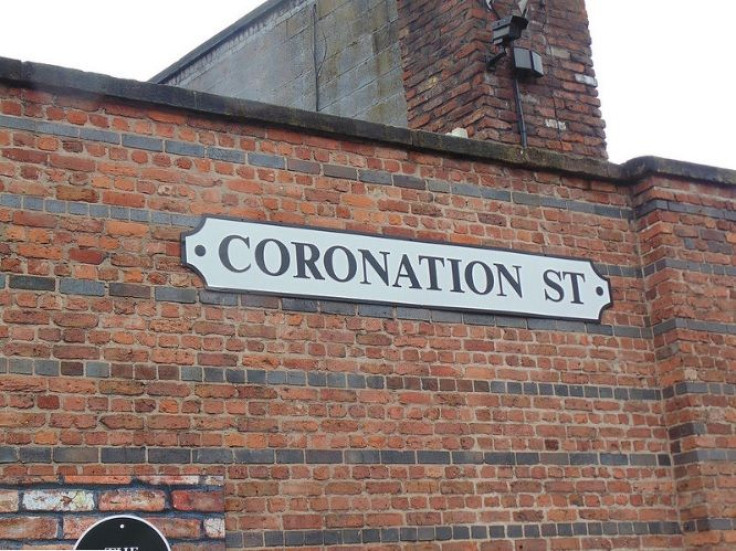 The "Coronation Street" cast, including Julia Goulding (Shona), Gareth Berliner (Macca), Lucy Fallon (Bethany), Malcolm Hebden (Norris), Patti Clare (Mary), Paddy Wallace (Jude), Victoria Ekanoye (Angie), Sam Aston (Chesney), Sue Cleaver (Eileen), Nicola Rubinstein (Nicola), Connor McIntyre (Phelan), Beverley Callard (Liz), Bruno Langley (Todd), Katie McGlynn (Sinead), Jennie McAlpine (Fiz), Sue Nicholls (Audrey), Shelley King (Yasmeen) and Antony Cotton (Sean), will be featured in the new episodes of "Corrie" on Monday. It includes key scenes such as Macca's return and visit to Shona, Phelan's suspicious behaviour and Liz's admission of using a fake name.
Spoiler Alert! This article contains additional 'Coronation Street' spoilers. Read on if you want to know more about the 'Corrie' episodes on Monday.
Shona wins some money
Digital Spy reports that the "Corrie" episode on Monday, which airs at 7:30 pm BST on ITV, will show Shona winning £6,000 (AU$9,753.60) from a scratch card that Bethany sent her earlier. Unfortunately, Zoe gets wind of it and calls Macca to tell him about it. Soon enough, Macca shows up at The Rovers to talk to Shona.
Chesney has another panic attack
Meanwhile, Eileen will tell Nicola about Phelan's strange behaviour. However, Nicola will assure her that she shouldn't worry about it. As for Chesney, he'll suffer another panic attack. This will occur when he's looking after Ruby (Macy Alabi) and Hope (Isabella Flanagan) for the day.
Elsewhere, Norris tells Mary that they should just give up the marriage charade, but Mary doesn't want to. She tells him that Jude will be extremely disappointed if that happens.
Nicola spies on Phelan
The second episode on Monday which airs on ITV at 8:30 pm BST, will feature Nicola following Phelan to investigate what's going on with him and why he's acting strange. Nicola and Eileen will also worry about him especially after seeing that he has a gash on his head. Phelan will get angry at Nicola but will later apologise to her for his sudden outburst.
Meanwhile, Chesney won't show up at the puppet workshop with the kids, which will make Fiz and Sinead worry about him. As for Macca, he'll tell Shona that Clayton is suicidal and the money she won could help him have the chance of an appeal. However, Shona doesn't trust Macca and will talk to Todd about it.
Liz confesses her secret to Sean
Elsewhere, Liz will tell Sean about her fake name. She'll also confess about luring the scam leaflet perpetrator into exchanging emails. Plus, Mary will announce that her wedding will be an intimate affair and that their friends won't be invited. This will make Angie suspicious. As for Jude, he'll agree to walking Mary down the aisle.
"Coronation Street" episodes air on the ITV Channel in the UK during weekdays. Stay tuned for more "Corrie" spoilers in the next few days. Click here to see photos from the episodes on Monday. Watch some videos of the British soap below from its official Facebook page.
MEET IBT NEWS FROM BELOW CHANNELS