Chinese Tourists To Taiwan Strait Shrug Off Beefed-up Security Patrols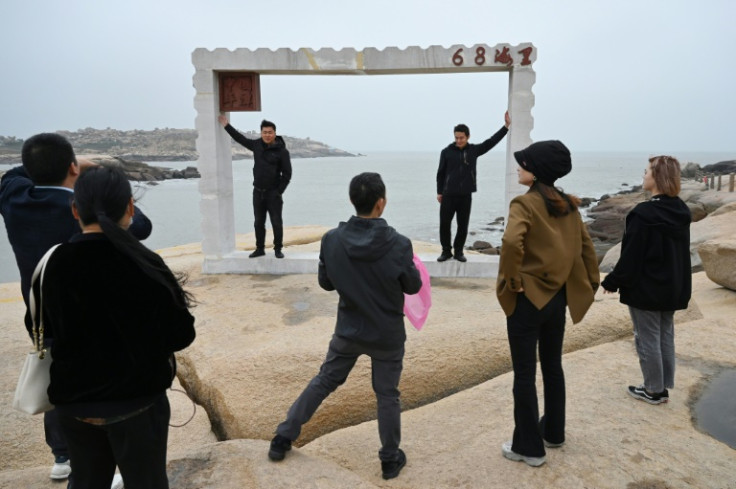 Tourist groups visiting Pingtan Island -- one of the closest points in southeastern China to Taiwan -- braved blustery seaside weather on Thursday and shrugged off the boosted maritime patrols in the flashpoint waters beyond them.
Chinese maritime authorities announced beefed-up coastguard operations in the Taiwan Strait to coincide with the Taiwanese leader Tsai Ing-wen holding talks with US House Speaker Kevin McCarthy in California on Wednesday. After their meeting, Beijing vowed to take "firm and forceful measures" to safeguard Taiwan, which it claims as its own territory.
AFP saw cargo boats and fishers plying the choppy waters off the rocky Pingtan coastline, about 80 kilometres (50 miles) south of Taiwan's Matsu Islands and 186 kilometres (115 miles) from Taipei.
Clusters of tourists milled around snapped selfies by the shore, although there were no signs of extra military activity.
Tour guides on the island, which is home to a People's Liberation Army base, brandished brightly coloured flags and marshalled groups of visitors.
Some wore red T-shirts emblazoned with "China, I love you" around the sights.
On a windswept bridge between rocky outcrops, a college student surnamed Du told AFP she opposed Tsai's American trip, saying the Taiwanese leader was "bending the knee" to the United States.
"Taiwan has never been independent. It is China's Taiwan province," the 20-year-old said. "Our country will certainly reunify one day."
But not every response was so fervent.
"I really like Taiwan... The people are very friendly, and they're just like us," a male tourist in his twenties said.
"I hope it returns to China in the near future," he added, declining to give his name due to the sensitivity of the issue.
There was little concern that the misty waters would witness military drills like those seen last summer, with one woman in her twenties saying was "not expecting to see anything like that here today".
Several other people declined to comment, saying they had not followed Tsai's US trip or didn't understand the complexities of cross-strait relations.
Meanwhile, live footage broadcast by state media on Thursday showed the "Haixun 06" vessel leading a patrol in choppy waters beneath grey skies "in the central and northern parts of the Taiwan Strait".
Images shot from the deck of the ship flying a blue flag showed another unidentifiable vessel travelling in the same direction several hundred metres to its right.
At one point in the video feed, a man held up a camera to show an image taken just moments before of the other ship, although poor image quality prevented identification of further details.
According to a 2021 report by state media, the Haixun 06 is 128.6 metres (421.9 feet) long and began construction in 2019.
The ship has a green flat deck at the stern, a white exterior and a long narrow bow, and is equipped with a helicopter landing pad, basic medical treatment facilities, and space to rescue 200 people.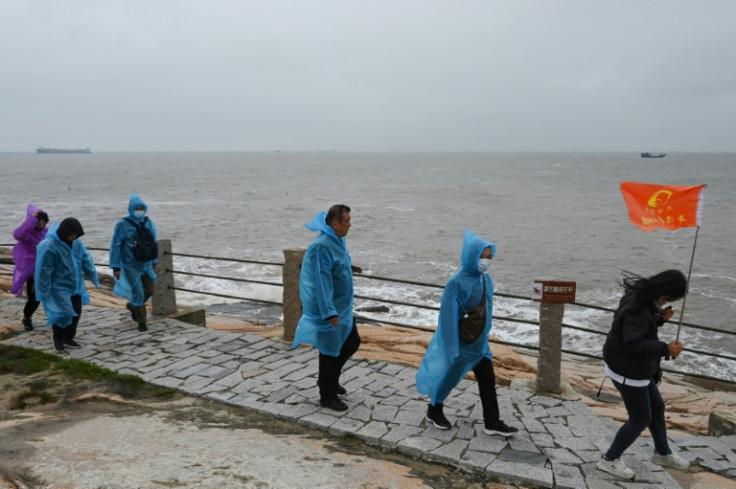 © Copyright AFP 2023. All rights reserved.
MEET IBT NEWS FROM BELOW CHANNELS