Canada Retaliates Against US Over Delay of Keystone Pipeline Project, Postpones Summit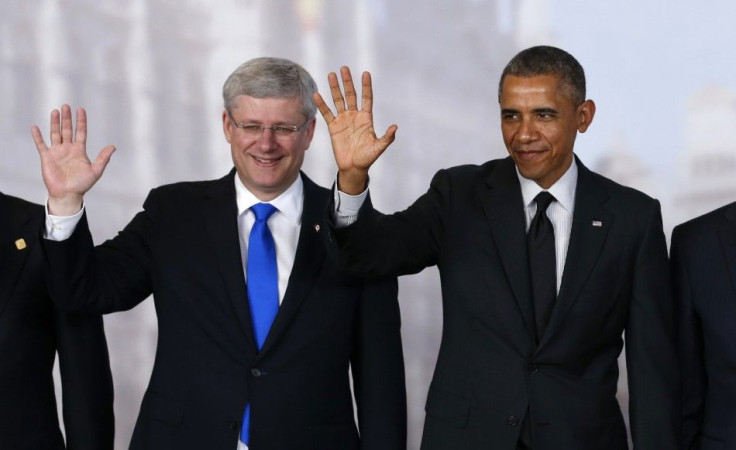 Seemingly unable to contain longer its apparent exasperations against the United States for its decision delays over the Keystone oil pipeline project, Canada has decided to postpone the North American leaders' summit sometime later this year. It would have occurred in late February. Mexico is the other country involved in the three-nation summit.
Canadian Prime Minister Stephen Harper had reportedly communicated with Barack Obama and Pena Nieto, presidents of the U.S. and Mexico, respectively, to advise them of the reschedule of the annual summit dubbed Three Amigos. Sources told Reuters it simply was just impossible to push the meeting through in February, without giving specific reasons.
Josh Earnest, White House spokesman, confirmed the rescheduling of the summit "from early this year to later in the year." Jason MacDonald, Mr Harper spokesman, said no date had been finalised for the reschedule. "We intend to host the meeting later in the year," Reuters quoted MacDonald.
Observers believed the postponement and reschedule of the Three Amigos annual summit was to avert a potential awkward encounter between Messrs Obama and Harper over the much-delayed Keystone oil pipeline project as well as visa requirements imposed by Canada on Mexicans. Earnest, however, believed the two nations, allies in the airstrike campaign versus the radical militants ISIS, has a "far deeper and far broader (relationship) than this one infrastructure project."
In early January, Mr Obama said he will not sign any legislation to push for the construction of the Keystone XL oil pipeline project that seeks to sidestep a federal agency environmental review. The proposed $8-billion project has been in the vetting process in the U.S. for over six years.
"I'm not particularly worried about any sort of Keystone outcome looming over those meetings at all," said Earnest. He added too many pressing issues now concern the two, plus Mexico, that to use the Keystone XL pipeline as main excuse for the postponement is somehow silly.
Assignment to become the summit host rotates among the U.S., Canada and Mexico. The last time Canada hosted the Three Amigos summit was in 2007, in Montebello, Quebec.
MEET IBT NEWS FROM BELOW CHANNELS