Boxing News: Bob Arum Claims America Is Rooting For Manny Pacquiao Over Floyd Mayweather Jr., Mayweather-Pacquiao Betting Odds Moving For Filipino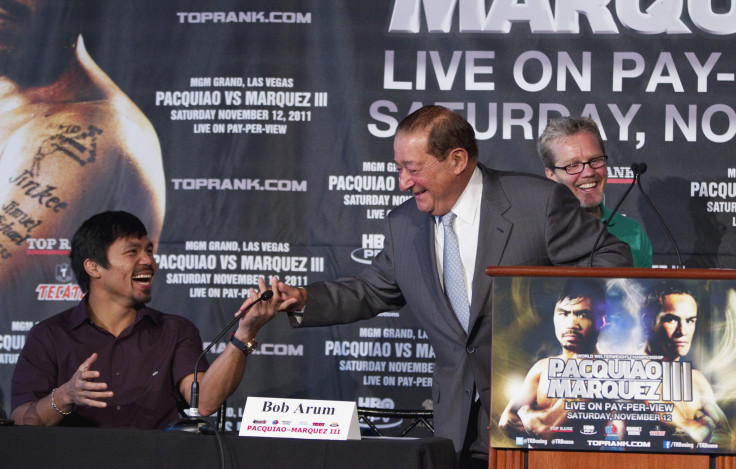 Floyd Mayweather Jr. is an American and fighting in his home country when he faces Manny Pacquiao in their super fight in May in Las Vegas, Nevada but long-time boxing promoter Bob Arum is stating that it is the boxer from the other side of the world in Pacquiao who will have more support from Americans come fight night.
"Most Americans you would think would be rooting for Mayweather, but the contrast is true," Arum opined in an interview posted at skysports.com. "The majority of the American population is rooting for Manny."
Arum's contention has been supported by the change in betting odds so far. When the fight was officially announced in late February, Mayweather Jr. opened as a minus-270 favourite— meaning, every $270 bet will earn $100 for those backing the American— while Pacquiao was pegged at plus-210 or every $100 bet on the Filipino pugilist will earn $210.
Roughly a month before the super fight, Mayweather Jr. is still the favourite in the betting odds but there's a considerable change in the line with Mayweather Jr.'s prices ranging from minus-190 to minus-180 while Pacquiao is at plus-160 to plus-170.
The move in the betting odds in Las Vegas is a reflection of the volume of bettors backing Pacquiao early and in some way justifies Arum's claims. However, the sportsbooks expect that at some point money— and support— is going to pour in for Mayweather Jr. as fight night draws near.
Mayweather Jr., who now resides and holds his training camp in Las Vegas and was born in Grand Rapids, Michigan in the United States, is considered the best draw in the sport and is expected to have majority of the fans in the venue come May.
In the same interview, Arum also suggested that the Mayweather-Pacquiao super fight is "slowly developing into a culture clash"— referring to Mayweather Jr.'s extravagant lifestyle and Pacquiao's dedication to his faith. The Mayweather vs. Pacquiao fight is scheduled on May 2, 2015 at the MGM Grand Arena in Las Vegas, Nevada and is considered by many as the "Fight of the Century".
To contact author of this article, email j.quizon@IBTimes.com.au. 

MEET IBT NEWS FROM BELOW CHANNELS