'The Blacklist' season 3 episode 19 spoilers: Red grieves over the loss of Liz in his own way in 'Cape May'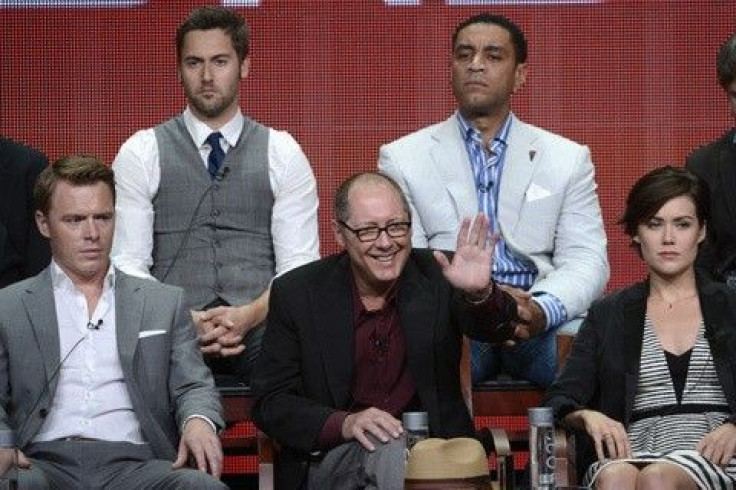 In Season 3 Episode 19 of "The Blacklist," Red (James Spader) will find it hard dealing with Liz's (Megan Boone) death. He will deal with his grief in his own unique way.
Spoiler alert! This article contains "The Blacklist" spoilers. Read on if you would like to know what happens next before the new episode airs.
"A mysterious beauty on the run from unknown assailants accidentally crosses paths with Reddington and enlists his help to fight back against her attackers," the episode synopsis stated.
In the shocking previous episode of "The Blacklist," Liz apparently died due to an injury she sustained while trying to escape Mr Solomon (Edi Gathegi). She successfully delivered her baby girl via emergency surgery, but succumbed to medical complications shortly after.
Entertainment Weekly posted a photo of the upcoming episode, which featured a funeral, most likely of Liz. Fans were still confused whether Liz really died at the end of Episode 18.
Amir Arison also told Entertainment Weekly that Red will be giving a eulogy at Liz's funeral with great difficulty. Based on the episode synopsis, Red will try to move on by working on a new case.
CarterMatt notes that the casket in the photo was closed, which still leaves the mystery of whether Liz truly died. It would also be a good strategy to keep her fate a secret, while Solomon and other entities who are after her will be dealt with, most likely by Red and Tom (Ryan Eggold). It would be a good diversion as the actress prepares for her maternity leave. Many still believe that Liz will resurface in Season 4 or the Season 3 finale.
Red generally has an answer to every problem and will have a hidden motive or advantage somehow. He is expected to deal with the assailants on his own in Liz's absence. The next episode, titled "Cape May," will showcase Red's unique manner of mourning the loss of his partner. Red will be contemplating much about his past and grief.
In the promo video, the narrator stated that Red will be in a dark place. Aside from losing Liz, Tom will try to keep their baby away from Red too.
"There was a woman and her child, both were doomed, both would die, I chose the child," Red said in the clip. Melty noted that Red may actuallybe pertaining to Liz and her mother.
"The Blacklist" Season 3 Episode 19 will air on April 21, 2016 on NBC in the US and on Channel 7 in Australia. The episode was written by Daniel Knauf.
MEET IBT NEWS FROM BELOW CHANNELS