'The Blacklist' Recap: Red calls Liz his way back home, Tom Keen returns in Episode 2, Season 3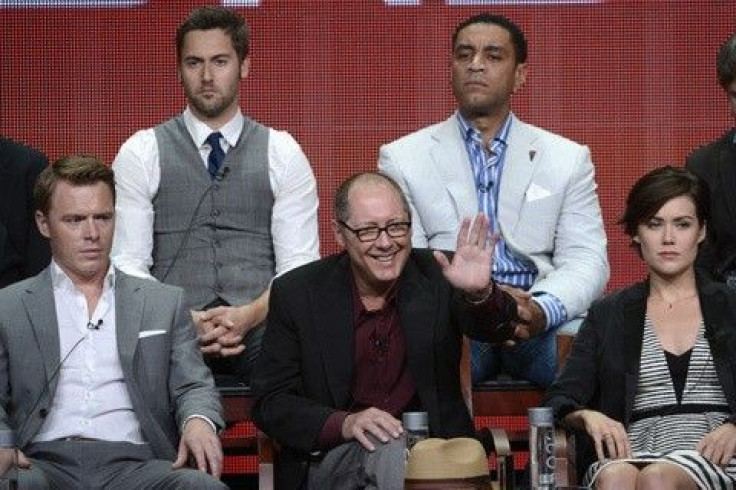 The DNA of "The Blacklist" has changed, and probably that's the reason behind another episode of the new season, titled "Marvin Gerard," ending on an unexpected note, making one almost jump out of the seat in joy. Tom Keen (Ryan Egglod) returned in the final moments of "The Blacklist" Season 3 Episode 2 to have a word with Agent Ressler (Diego Klattenhoff). It is always a delight to see this wild card appearing on the screen, as he adds that extra zing to the series. And his return makes Episode 3 of "The Blacklist" one of the most-anticipated episodes -- there is no way one is going to miss the momentous scene featuring Donald and Tom's talk. Their first one-to-one talk may lay the base for an exciting bromance to unfold. But before that happens, here is what happened in "The Blacklist" Season 3, Episode 2, "Marvin Gerard":
The episode picks up right where it left off in the previous episode. Liz (Megan Boone) scales the Russian Embassy's walls and jumps on Russian territory. She is seeking diplomatic immunity, claiming to be a Russian spy Masha Rostova. The head of the Russian intelligence at the Embassy calls her bluff, but Liz finds a way to make him consider her request for diplomatic immunity. She also gives him a sneak peek of the Cabal and their plan to start another cold war between Russia and the U.S. The Russian intelligence head cannot allow her to stay at the Embassy, but he tells her that she will be sent to Russia. Outside the Russian Embassy building, Ressler is a restless man who cannot let Liz escape, and Samara (Mozhan Marnò) stops him from acting recklessly, as barging into Russian embassy is equal to invading Russia.
Soon Ressler gets a call from Red (James Spader), who has made the Russian Ambassador his mole by standing in his bedroom and recounting to him all his wrong doings and by pointing out his affair with a married woman -- married to an influential man. Russian Ambassador informs Red about Liz being sent to Russia, and the latter figures out that the Cabal wants to kill Liz.
Red warns Ressler that Liz is dead as soon as she is out of the Embassy gate. The latter, who earlier failed to stop Liz's convey from leaving to the airport, informs Red that Liz is already on her way to the airport. The man is acting tough and may look inconsiderate, but Ressler again proves that Liz and her safety are his prime concern. He follows the car in which Liz is being taken to her death bed -- on the orders of Mr Solomon ((Edi Gathegi) -- and tries to stop it by ramming his SUV against it. The result is the car's crash, one dead body -- the driver whom Liz shot to protect Ressler -- one injured man and Liz's escape. Resller watches Liz run away from the site. Afterwards, Mr Solomon visits the injured man in hospital and puts him to sleep to stop him from giving his statement to the FBI.
Liz and Red's reunion happens at a diner. It does not take long for someone to tip off the FBI about their whereabouts. When the task force arrives and encircles the building of the diner, Red holds everyone at the diner as his hostage. He tells Ressler three of his demands, and if they are not met, he would start killing the hostages, adding Liz may not do that but he is ruthless enough to do that. The demands are: immediate restoration of power to the building, arranging armoured vehicle for his escape, and to bring to him Marvin Gerard (Fisher Stevens).
Who is Marvin Gerard? The title character of Episode 2 of "The Blacklist" Season 3 is one of the smartest Harvard educated lawyers around who achieved immense success at a young age. He got into trouble with the law because of his tragic family situation -- he had kidanpped his son, who later committed suicide, to protect him but ended up in prison.
Gerard, who is engaged to a woman called Becky, is not too happy to meet Red, especially when his parole hearing is near. But he has no other option but to help Red. While he is checking some documents on a laptop, a hot-headed customer -- who Red earlier taught some etiquettes on how to behave with women -- tries to take Liz's gun, and she responds violently, hitting him brutally -- fracturing his ribs and puncturing his lungs. It's Red who calms down a ferocious Liz . Later, the injured man's partner stops Liz from helping her man, with fear and determination in her eyes.
Gerard has found something that may help later. He makes Red read some parts of a document that is part of the fulcrum, which the latter had not read earlier. After reading that, Red says that it is time for them to exit the diner.
Outside, Ressler figures out that it was not an anonymous caller but Red himself who had give them the information on his whereabouts. But Resller is unable to catch Red, Liz and Gerard, as they find their way out of the building through a secret exit door and passage, with the help of the diner owner. Gerard is sent off in a vehicle, probably to a Banana plantation in Haiti. He is not going there alone, but with Becky who was waiting for him in the vehicle.
Red and Liz move to their new hideout, a ship at sea. Liz is shaken because of the way the woman at the diner looked at her, in fear and hate. The two talk about how Red joined naval intelligence. Afterwards, Red tells Liz that when he looks at her, he sees his way back home.
Agent Cooper, who has been asked to resign, tries to find information on missing Russian agent Karakurt, who now takes orders from the Cabal. And Mr Solomon pays a visit to Dembe (Hisham Tawfiq), who is lying on the floor with his hands tied, and he hits him with pool balls to make him cough out the information on his boss' whereabouts, as it is unlikely that Red's loyal man would not be knowing that.
And Ressler is wondering why Red needs Gerard. Later when he is near his apartment, he feels that someone is following him. He turns around, drawing his gun -- ready to shoot. The hooded man is Tom, and he is there to have a talk with Ressler.
Contact the writer at feedback@ibtimes.com.au, or let us know what you think below.
MEET IBT NEWS FROM BELOW CHANNELS