Anzac Day 2016: 5 things to know about Anzac Day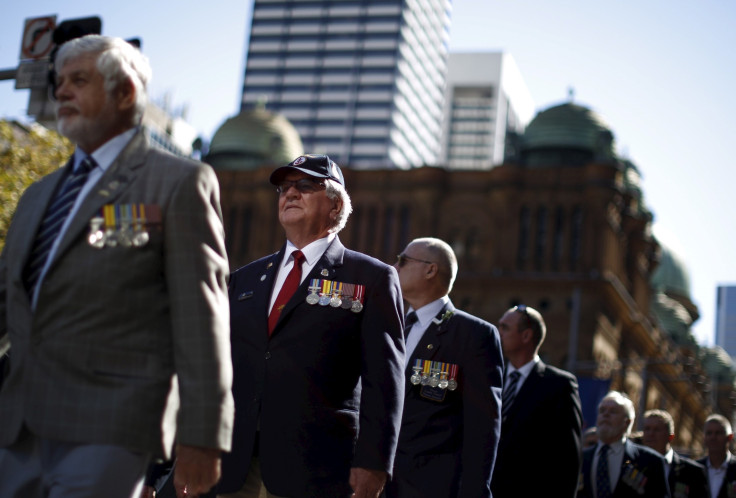 On Monday, Australia will commemorate what is considered as one of its most important and solemn national occasions, the Anzac Day.

ANZAC means Australian and New Zealand Army Corps, and soldiers became known until today as Anzacs. April 25 is the anniversary of the first major military action fought by these soldiers during World War I.

Since it is considered a national holiday, it's time to revisit why Australians celebrate it. Here are some things to know about Anzac Day.

What happened on April 25
On April 25, 1915, the Australian and New Zealand landed on Gallipoli peninsula in their bid to to capture Constantinople, now known as Istanbul, according to the Australian War Memorial. Constantinople was the capital of the Ottoman Empire, an ally of Germany. The Anzacs met resistance from the Ottoman Turkish defenders, resulting to the deaths of more than 8,000 Australian soldiers. Anzac Day is when the Australians remember the sacrifice of those who died in the war.

How Australia commemorates Anzac Day
Anzac Day has ushered in several traditions in Australia. Since 1927, the day begins with a Dawn Service, given that the landing at Gallipoli occurred at dawn. The ceremony involves a "stand-to," then a moment of silence to remember those soldiers who died, followed by the sound of a single bugle, or a brass horn instrument, according to anzac.com.

During Anzac Day, a parade with ex-servicemen and women is also held while they are in their uniform. People also place flowers and wreaths on the fallen soldiers' graves. Some even wear a sprig of rosemary or a poppy to symbolise bloodshed in war.

Anzac biscuits
One of the staple elements of Anzac Day celebration is the Anzac biscuit . This sweet biscuit is made of rolled oats, flour, desiccated coconut, sugar, butter, golden syrup, baking soda and boiling water. Reports indicate that Anzac biscuits were food provisions sent to the soldiers by their wives because of their nutritional value and because the ingredients do not spoil easily.

Two-up game
Another common tradition during Anzac Day is the two-up game, which was reportedly played by soldiers during World War I. The Perth Mint says that the game involves two coins, which are placed tails up on a flat board called a kip or paddle. One person, called the spinner, will toss the coins and players will bet on which way the coins will land. The two-up game is still played nowadays to honour the military traditions.

Other countries that celebrate Anzac Day
Apart from Australia and New Zealand, Anzac Day is also celebrated in other places, including the Cook Islands, Niue, Pitcairn Islands, and Tonga. It was also previously held as a national holiday in Papua New Guinea and Samoa.

This year, Australians will celebrate the 101st Anzac Day.
MEET IBT NEWS FROM BELOW CHANNELS