Wisconsin Shooting: Fires, Protests Spread In City After Police Shoots Black Man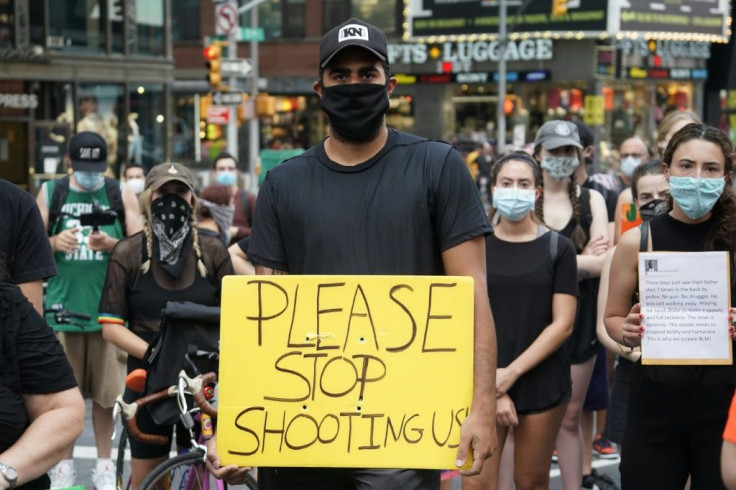 Protests and fires spread across Wisconsin after a Black man was shot multiple times by police on Sunday. The man was critically injured.
The victim, identified as Jacob Blake, was reportedly breaking a fight between two women when police arrived. A video posted on Twitter, which has been viewed more than 8 million times as of this writing, showed Blake in a white undershirt walking back to his black SUV with two police men pointing their guns at him. The officers were from the Kenosha Police Department.
As Blake was getting into his vehicle, one officer shot him several times on the back. A family attorney revealed Blake's children -- aged 3, 5 and 8 -- were in the car during the incident.
"We all watched the horrific video of Jacob Blake being shot in the back several times by Kenosha police. Even worse, his three sons witnessed their father collapse after being riddled with bullets," Attorney Ben Crump, who represents the family, said in a statement.
Following the incident, protests have spread in the city. At least three buildings were set on fire in Kenosha on Monday. The buildings included a furniture supply, an automotive repair shop, and the Department of Corrections field office, CNN reported.
Protests have also defied the 8 p.m. curfew in the city.
The shooting comes just months after the George Floyd protests that swept the nation. In May, Floyd died in Minneapolis while being arrested by police. In videos taken by passersby, officer Derek Chauvin can be seen kneeling on Floyd's neck for more than 9 minutes. This is believed to have caused his death.
Protests and riots spanning weeks spread across the U.S. including in over 60 cities across the world. Protests against systemic racism and police brutality were held in Australia, Canada, U.K., and Poland.
"We will seek justice for Jacob Blake and for his family as we demand answers from the Kenosha Police Department. How many more of these traffic "while Black" tragedies will it take until the racial profiling and undervaluing of Black lives bu police finally stops?" Crump said.
MEET IBT NEWS FROM BELOW CHANNELS