US sells US$12B fighter jets to Qatar days after Trump accused it of funding terrorism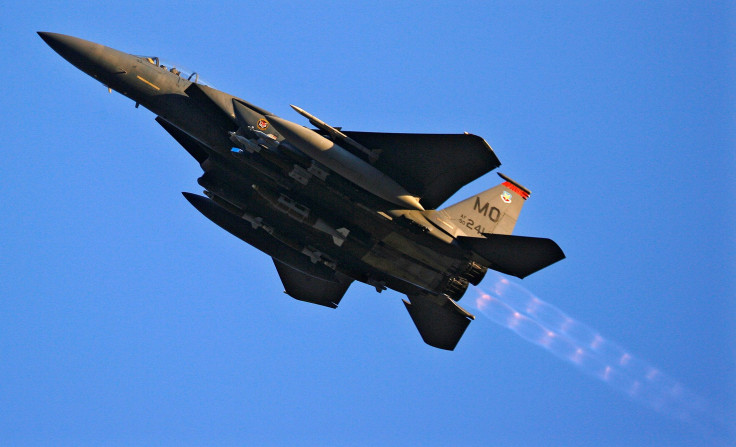 Donald Trump has authorised the purchase of F-15 fighter jets to Qatar days after accusing the Gulf nation of funding terrorism. Washington and Doha signed an agreement on Wednesday with an initial cost of US$12 billion (AU$15.8 billion).
US Defense Secretary James Mattis met with his Qatari counterpart, Dr Khalid Al Attiyah, in Washington to finalise the purchase of US-manufactured F-15 fighter aircraft. The sale is hoped to give "increase security cooperation and interoperability" between the two countries.
"The secretary and the minister also discussed mutual security interests, including the current status of operations against ISIS, and the importance of de-escalating tensions so all partners in the Gulf region can focus on next steps in meeting common goals," Pentagon spokesman Lt Col Roger Cabiness told CNN in a statement.
The department noted that the sale does not directly conflict with the ongoing Qatar diplomatic crisis as it will still take years to complete the sale in full. The deal was notified in November 2016 when then-President Barack Obama was still in office.
Al Attiyah said the agreement highlights Qatar's "longstanding commitment" in working together with the United States in advancing their military cooperation and fight against extremism. He added that the deal is another step in furthering the two nations' relationship.
The sale came just days after Trump appeared to have sided with Saudi Arabia, Bahrain, Egypt and United Arab Emirates and others against Qatar. Trump said the other Gulf nations requested his help in confronting Qatar.
"The nation of Qatar, unfortunately, has historically been a funder of terrorism at a very high level," Trump said last week. "And in the wake of that conference, nations came together and spoke to me about confronting Qatar over its behaviour. So we had a decision to make. Do we take the easy route or do we take the hard but necessary action? We have to stop the funding of terrorism."
Earlier this month, the neighbouring countries of Qatar have abruptly ended their diplomatic relationship with the small Gulf state. As of June 10, eight countries cut their ties with Qatar, namely Bahrain, Saudi Arabia, Egypt, the UAE, Yemen, Mauritania, Maldives and Comoros.
CNN/YouTube
Read more:
Trump unfriended by Qatar Airways CEO for siding with other Arab nations
Qatar diplomatic crisis: Ransom money and Russian hackers trigger rift
MEET IBT NEWS FROM BELOW CHANNELS