Ukraine campaigns to strip Russia of its veto power in the UN: Move follows a similar French initiative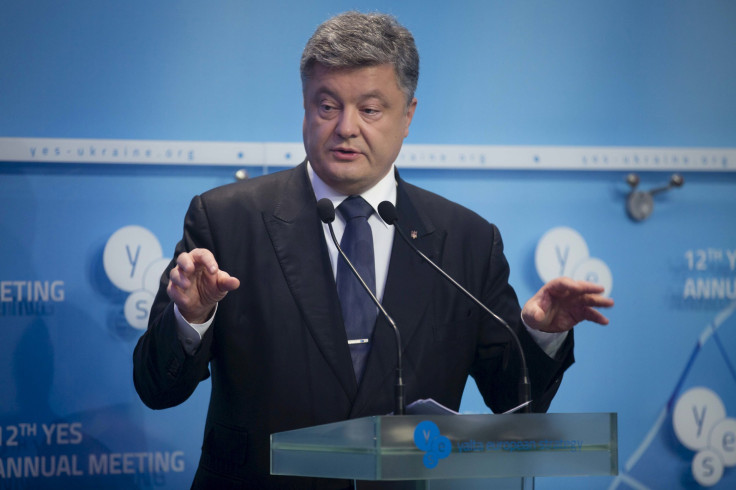 The rumblings of Ukraine's strained relations with Russia will soon echo at the United Nations after it announced a campaign to strip Russia of its U.N. Security Council veto power. The former Soviet state is planning to raise the matter at the United Nations General Assembly meeting in late September.
Ukraine's parliament, the Verkhovna Rada, on wednesday voted unanimously to approve an international initiative to prevent the use of veto by some permanent members in the Security Council in blocking resolutions or actions where "conflicts become especially rigid."
Ukrainian President Petro Poroshenko also recently told Voice of America that Russia needs to be stripped of its veto power in the U.N. Security Council.
The Ukraine campaign envisions a veto-free Security Council, and the eventual abolishment of a single state's veto to block votes. In a tweet, Ukraine's U.N. ambassador Yuriy Sergeyev claimed that 67 of the General Assembly's 193 members have extended their support for the move. However, Russia dismissed the Ukrainian proposal.
Hurting Ukraine's interests
Though it may seem Ukraine is targeting all five permanent members – the U.S., U.K., France, China and Russia, the campaign is primarily aimed at Russia, whose recent veto blocked a Security Council resolution that supported Ukraine's claim that Russia is guilty of "military aggression" against it. Again in July, Russia wielded its veto power to block a U.N. Security Council resolution for creating an international tribunal for bringing to book those responsible for the downing of Malaysia Airlines flight MH17 in July 2014. While Investigators tried to implicate Russia in the downing of the aircraft that killed all the 298 people on board, Russia blamed Ukraine for the incident as it happened at its airspace.
Though Western powers are supportive of Ukraine's move against Russia, they have avoided taking a strong position on Kiev's proposal on scrapping the veto.
Russia's reaction
Reacting to Ukraine's anti-veto campaign, Russia's U.N. envoy, Vitaly Churkin, said the permanent Council members' veto right "is a very important mechanism," in arriving at settlements where member states are bitterly divided.
The five permanent members in the U.N have veto powers that block any Council action, even if it is backed by all other members. Meanwhile, Ukraine is hoping to get elected as a temporary Security Council member when membership changes will be decided in New York on Oct. 15.
Many analysts see the Ukrainian campaign against Russia's veto as an offshoot of the French initiative that sought to pressure other permanent members – Britain, China, Russia, and the United States – from using their veto powers when action is really required in cases involving mass atrocities.
The French initiative followed the actions of Russia and China, who both blocked a 2014 resolution that asked the International Criminal Court to investigate crimes committed in Syria. Russia vetoed it because it has been backing Syria's President Bashar al-Assad, RFERL reported.
Meanhile, Russia has criticised both the French initiative and the Ukrainian campaign.
"We stand in favour of preserving rights for the five permanent Security Council members," Deputy Foreign Minister Gennady Gatilov told Russian news agency RIA Novosti while Russia's UN Ambassador, Vitaly Churkin, alleged that the French initiative had a "political subtext."
For feedback/comments, contact the writer at feedback@ibtimes.com.au or let us know what you think below.
MEET IBT NEWS FROM BELOW CHANNELS