'Suicide Squad' Set Photos Prove Jared Leto Will Have Tattoos As The Joker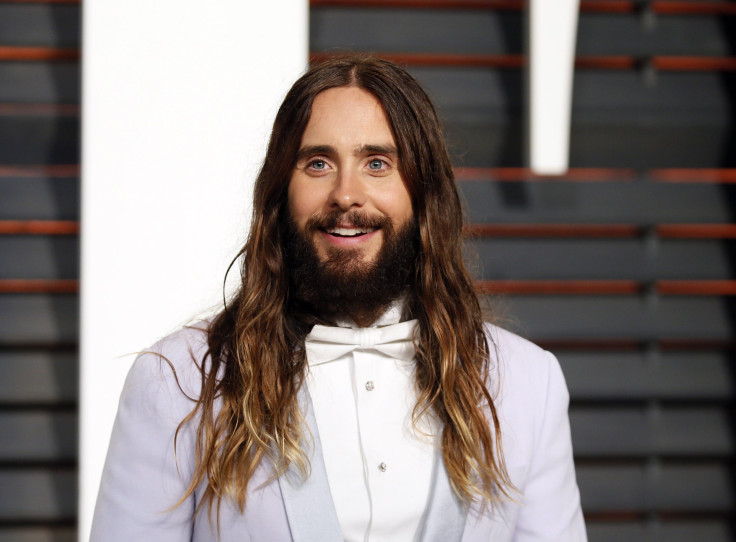 The first official look at Jared Leto as The Joker in "Suicide Squad" left fans wondering whether he will sport tattoos for his villain look. Apparently, some set photos indicate that the actor will indeed have the tattoos as part of his character makeup.
A few photos from the set of "Suicide Squad" in Toronto, Canada have emerged online via Just Jared. One close up photo of Jared Leto as the The Joker revealed the actor sporting tattoos on his chest and neck area. Cinema Blend also reported about the letter J tattoo under his left eye and the word "Damaged" tattooed on his forehead. In another image, Leto is seen wearing a red collared shirt with the buttons opened to reveal the tattoos etched on his stomach.
Jared Leto's tattoos for his Joker look in "Suicide Squad" were first officially revealed by movie director David Ayer on his Twitter page on April 25. The director captioned the image, "The Suicide Squad wishes you a Happy Anniversary Mr. J! #Joker75 #SuicideSquad @WarnerBrosEnt @DCComics." It revealed Jared Leto marked with numerous tattoos on his face and body including his arms. The first reveal of the actor's makeup definitely had fans wondering if he will have that many tattoos in the movie. According to Cinema Blend, at that time people guessed that Jared Leto's tattoos were merely part of a photo shoot to celebrate the 75th anniversary of DC's Clown Prince of Crime.
Gabriel Gray, an insider from the entertainment/movie industry, also said back then that Jared Leto will not have the tattoos for his final look as The Joker in "Suicide Squad." Movie Pilot shared Gray's Twitter post about Leto's official look as the villain. "Here's something that might be of interest to you comicbook fans. The promo picture of Leto in Suicide Squad isn't what he'll look like."
Movie Pilot further gave some sample set photos showing Jared Leto without the tattoos on his face. One photo showed the actor on set without any of his Joker makeup on his face. The other image seemed to have been taken while the actor was filming his scenes. However, the recent set photos have finally proved that Jared Leto will indeed have tattoos for his final look as The Joker in "Suicide Squad."
To report problems or leave feedback on this article, email: t.diente@ibtimes.com.au
MEET IBT NEWS FROM BELOW CHANNELS