'Splatoon' Splatfest finale happening in July as Squid Sisters enter 'Super Mario Maker'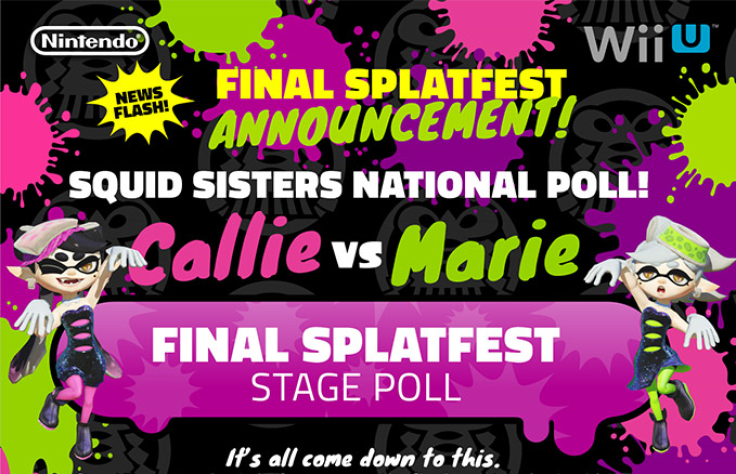 Following 15 Splatfests, the "Splatoon" developer has announced the next one to be the final one. This time, it will pit players against the two popular Squid Sisters in the game.
In the next Splatfest Showdown, players will have to choose if they are taking the Team Callie or the Team Marie. The Splatfest Showdown finale will be held on July 22 at 2:00 a.m. PT to July 24, 2:00 a.m. PT. Since it is the final Splatfest, the showdown will take place at relatively the same time as all of the regions. However, players will be pitted against other players who are within their regions.
"The Top 100 Players will also be tallied and announced separately for Japan region and for North America and Europe regions. Though the results will be collected from all regions, they will be combined together and announced at the same time," said Nintendo in the official "Splatoon" Tumblr.
Voting will start on July 4, 7:00 p.m. PT. Nintendo also confirmed that the last Splatfest stages will be based on which Squid Sister will win the polling. "Splatoon" players should expect an email. They will need to use their Nintendo Network IDs to vote until July 12.
To ramp fans up for the upcoming stage poll, Nintendo has also just confirmed that the Squid Sisters are coming to "Super Mario Maker." They have been previously datamined to arrive to the game, and this time, the developer has announced the update details. According to Nintendo Life, the duo will come alongside the version 2.9.0 on July 5.
The update will bring the amiibo functionality for the two figures, some weapon balancing and fixes to some issues. The full changelog is detailed in the link above.
So apart from waiting for the polling to end by loading up on trending fan works of Callie and Marie, "Super Mario Maker" players can also expect the new Event Course that will usher in the two Squid Sisters. This will come to the game on July 8. Players will need to complete the Event Course twice to get both Sisters.
MEET IBT NEWS FROM BELOW CHANNELS