'The Sims 4' Movie Hangout Stuff DLC already out, brings movie experiences and new movie posters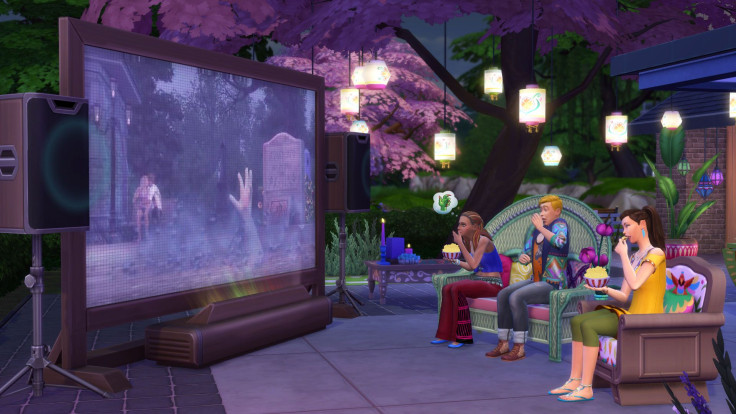 Following the many new things and features added with the Get Together expansion, "The Sims 4" fans can look forward to another round of new activities, this time featuring some entertainment value. Electronic Arts has teased the Movie Hangout Stuff expansion for "The Sims 4" earlier, and now, it's already available for download.
The new expansion features a projector, a popcorn maker and some new furniture for players to create their very own movie watching experience. iDigital Times managed to spot a tweet from Sims Producer Graham Nardone on some of the features being added with the new expansion.
Contrary to what the expansion's name suggests, "The Sims 4" Movie Hangout Stuffs does not necessarily have an even nor does it feature a cinema. For the most part, the goal was to provide players' Sims to have a gathering with friends or family and enjoy a movie.
"You can invite friends to hang out and then watch a movie with them; it didn't feel like something needing a dedicated event," said Nardone via Twiter.
The limitation of the pack was also due to size constraints. Nardone stated that the team had ensured that the experience was more for a home experience, as the cinema has a different mechanic to it. Interestingly, even the movie experience is just at home, it appears that Sims can be very immersed in the movie, enough to even offer a shushing sound to quiet down other Sims who are not as invested in the movie.
In addition to the new DLC, EA has also announced some new movie posters for "The Sims 4." These posters are now available for free for players, so long as they have an Internet connection, the actual "The Sims 4" games and all the updates required for playing.
As per the official announcement, EA has also confirmed that "The Sims 4" Movie Hangout Stuffs DLC will feature 10 original films that can be watched. The genres span from family to romance to even horror, so Sims can take their pick. The accompanying oversized TV can be placed in a variety of areas, so it can easily be an outdoor or indoor movie, depending on one's preference.
The developer has even suggested great places to put the new movie posters. According to the official "The Sims" blog, these can be placed in the bedrooms of Sims or somewhere around the house. For those who will be getting "The Sims 4" Movie Hangout Stuff DLC, it will be great to include it in the entertainment centre.
The free posters all came from previous videos, specifically Still Life, Malpractice and Epic Wood. According to EA, these were created following the videos that were previously released for "The Sims 4." The screenshot features some of the aforementioned posters.
"The Sims 4" Movie Hangout Stuff pack (Credit: YouTube/TheSims)
MEET IBT NEWS FROM BELOW CHANNELS