'The Simpsons Tapped Out' Act 3 and St. Patrick's Day update walkthrough: More prizes, quests and a lot of green beer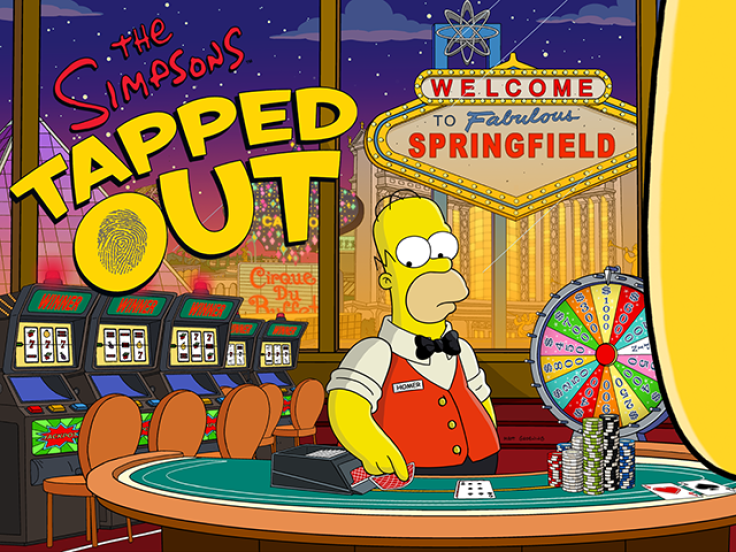 The casino event is nearing closing time—and Act 3 is here to bring in more entertainers and the last slew of tapping Gamblers to get the last prizes. Alongside the last leg of "The Simpsons Tapped Out" casino update, there's also the timely Easter and St. Patrick's Day mini update, which brings new items to the store.
Act 3 is up
With Act 3 finally here, the story following Apu's shooting continues. Lisa is still trying to investigate the reason for Mr. Burns' money-losing casino plan.
All of the mechanics for the Act are just the same as in the previous two acts. Only this time, there are now four event currencies apart from the tokens. These are the Coasters, Keychains, Martinis and Show Tickets, the last one also available for use as a Crafting Level up material.
Like us on Facebook
The prizes for this round include Nero's Palace Arch, Nero's Palace Casino, Reclusive Mr. Burns skin, Chinese Acrobatic Theatre and Gabbo and Arthur. As per the other prizes in the two acts, the five prizes will also give Club Card Points, so that players can still get the prizes from the Player Club. Note that the last prize would be the last upgrade of the Club Tower.
For those who still haven't obtained it, Homer's House of Cards will be the last building in "The Simpsons Tapped Out" casino update. This will allow players to use the tokens for a round of card games and a chance to win chips and bonus event currencies.
Since this is already the last act of the event, it's best to keep playing the different mini games available. Apart from getting all the prizes, the bonus donuts round also allow players to accumulate as many donuts as possible, given that there may still be some Easter items coming later on.
Take a break from the casino, get Shredded Ned
Electronic Arts has combined the two holidays in the update, and it makes for an interesting quest line, which predominantly stars Ned. Logging into the game will give players a free Leprechaun statue as a gift for St. Patrick's Day. Some may have already gotten it from previous St. Patrick's Day updates, but it's a welcome gift nonetheless.
To go through the St. Easter, "The Simpsons Tapped Out" players should make sure to keep Homer and Ned free for a few tasks. Just for playing the St. Patrick's Day and Easter update (funnily dubbed as St. Easter's), "The Simpsons Tapped Out" players can get Shredded Ned as a new skin. He has a few interesting outdoor tasks, such as working out and trimming the hedge during the quest, so it's good make him take a break from jobs at Burns' Casino if only to finish the St. Patrick's Day quest line.
Green beer, casino buildings and more items in-store
There are a lot of new items in the store to kick-start the St. Patrick's Day cheer. First of all, and one that may seem like a loss for others, O'Flanagan's Pub and Tom are offered as a combo for in-game cash. Not only that, it's on the low end for only $1,900.
The Wishing Well and Leprechaun and the Shamrock Café and Yuprechaun combos are both coming back, for those who have not gotten them the previous St. Patrick's Day events. In addition, there is now the Northern Irish Leprechaun as well (80 Donuts). Gil's Deal for the occasion is the Notre Dame of Springfield, which comes with Groundskeeper Seamus for a 150-Donut deal combo.
Blarney Castle is also making a comeback as a premium item (115 Donuts), a St. Patrick's Flag can be added to the sports area of Springfield towns, and players can stock up again on a Stack of Beer (35 Donuts). Non-premium players can also make purchases at the store, as the Shamrock Topiary and Green Beer Fountain are also returning and can be bought for in-game cash.
For Act 3, there are also a couple of new additions. Nero's Wall can be bought for 2000 in-game money, matching the first prize in the last act, so players can fence out their casino area in "The Simpsons Tapped Out." There's a pyramid-shaped Peacock Lounge (80 Donuts), which rewards 480 Club Card Points on top of the money and XP payouts.
Returning from previous events, though no longer counted to have Club Card Points are the Pow-Wow's Casino Sign (40 Donuts) and Springfield Falls (90 Donuts). The latter is a great addition to Springfield Heights, especially for players who have their own nature spot in the game. This used to be a tie-in event, and one that could not be obtained via other occasions, so best to get this while it's still available in the store.
For Casino update-related purchases, there are some premium offers to get currency. For 15 Donuts each, players can get 30 Keychains, 30 Coasters, 20 Martinis or 10 Show Tickets. There are also two offers for Casino Tokens for a 10-piece pack (209 Donuts) and a 25-token pack (40 Donuts). These may not be the best buys, considering how Tokens regularly drop from tapping Gamblers and occasionally through completing Daily Tasks.
"The Simpsons Tapped Out" Act 3 gameplay (Credit: YouTube/NuclearVideosHD)
MEET IBT NEWS FROM BELOW CHANNELS