Samoan PM Tuilaepa Sailele: World leaders who deny climate change 'utterly stupid'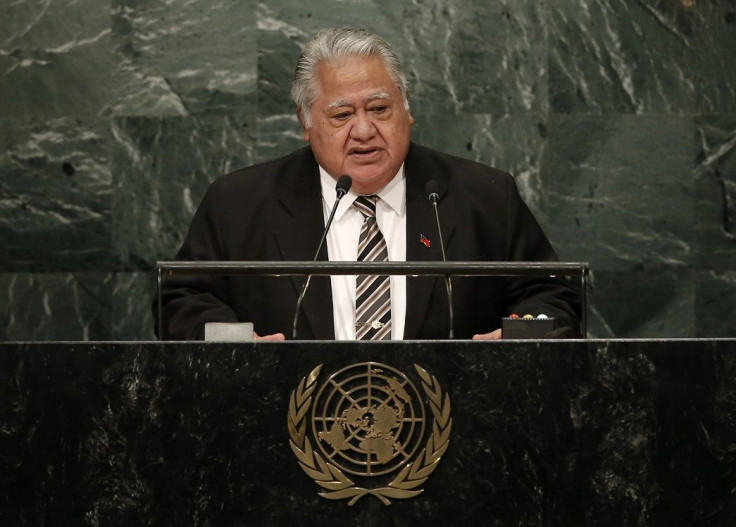 Samoan Prime Minister Tuilaepa Sailele delivered a passionate speech about climate change in Sydney on Thursday, saying world leaders who are deniers are "utterly stupid." He has urged Australia to make deeper cuts to its carbon emissions in a bid to save Pacific Island nations from the disaster that is the climate change.
Speaking at the Lowly Institute, Mr Sailele said climate change posed an "existential challenge" islands in the Pacific and that developed countries like Australia need to do more to fight it to curb rising temperatures and sea levels.
"We all know the problem, we all know the solutions, and all that is left would be some political courage, some political guts, to tell people of your country there is a certainty of disaster," he said. "So any leader of any country who believes that there is no climate change, I think he ought to be taken to mental confinement. He is utterly stupid. And I say the same thing to any leader here."
He said the adverse impacts of climate change have already been felt by Pacific island nations even though the effects were slow to reach other regions. "Greater ambition is necessary to limit global warming to 1.5 degrees centigrade and Pacific island countries continue to urge faster action by all countries."
Mr Sailele's speech came days before the Pacific Islands Forum leaders' meeting in Nauru. New Australian Prime Minister Scott Morrison has been criticised for skipping the meeting next week. His predecessor, Malcolm Turnbull, had been scheduled to attend the meeting, but the unexpected leadership spill last week kicked him out of the office. Morrison will be sending new Foreign Minister Marise Payne instead.
Morrison is reportedly under pressure from some members of the Liberal party to abandon Australia's commitment to reducing emissions under the Paris agreement.
MEET IBT NEWS FROM BELOW CHANNELS