Ronda Rousey News: Ex-UFC champ all smiles, out and about with beau
When is Ronda Rousey's next fight?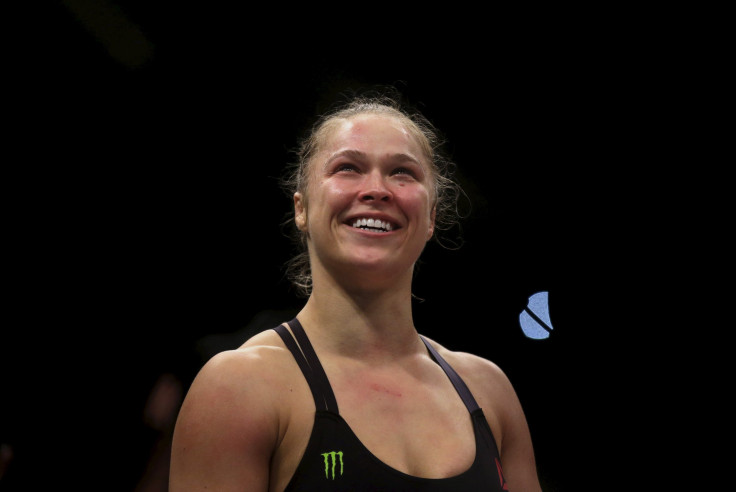 Ronda Rousey and boyfriend Travis Browne were spotted out and about together in LA. They are looking good, and Ronda seems to be doing well three months after her sad interview on Ellen. When is the former UFC champion's next fight?
In the photos released by Daily Mail, former UFC champion Rousey and MMA fighter Browne are seen sporting big smiles. With an arm around each other, the couple was out for a cruise in the Santa Monica neighbourhood in Los Angeles.
When is Ronda Rousey's next fight?
IBTimes.com recently offered insights on the next fight for the former women's bantamweight champion. The report quoted UFC president Dana White as saying, "She has as much time off as she wants or needs. Obviously, I would love her to come back sooner than later."
Rousey lost her title to Holly Holm last November during her third attempt to defend her title in a span of nine months. On her first talk show appearance on "Ellen," Rousey discussed the shocking UFC result, what happened and what she felt during the entire ordeal.
"Honestly, I was in the medical room, I was down in the corner, I was sitting in the corner and I was like 'what am I anymore if I'm not this?'" Rousey said in tears.
Ronda Rousey movies coming up!
Right now, Rousey is busy with her career outside the octagon. She was contracted by "Lifetime" for a three-picture movie deal that will bring her passions about empowerment to the big screen, according to Deadline. Reports say that Rousey will develop and produce the main parts of the movie but she might not be playing the main roles.
WATCH: Ronda Rousey discusses her UFC upset
Source: YouTube/TheEllenShow
Time named Rousey as one of the 100 most influential people last month. Though she lost her title as UFC champion, Rousey makes good use of her influence for charity. Here she is, calling for some altruism on Twitter:
MEET IBT NEWS FROM BELOW CHANNELS