'Red Dead Redemption 2' to receive live action trailer, release date to be revealed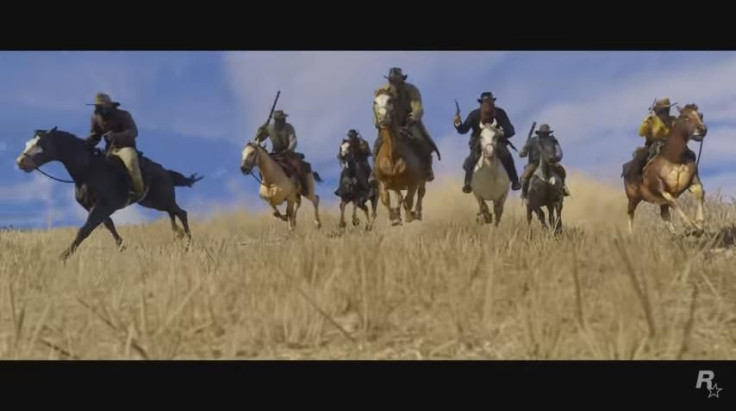 Rockstar Games has been relatively quiet about any details regarding one of its most anticipated releases of the year, "Red Dead Redemption 2." But a recent film crew spotting seems to indicate that the Western sequel will soon receive a live action trailer. What is arguably more important, however, is that a release date was provided.
As noted by The Great Falls Tribute, crew members were seen near a church in northeastern Montana. The Mni-Sda (Still Water) Presbyterian Church, which the locals simply call the Chelsea Church, can be found just beyond US Highway 2. It is the oldest church on the Fort Peck Indian Reservation, having been constructed in 1904.
According to the publication, the videos captured will be used for the promotion of a video game, although those on site could not name the game itself. Mostly, the team used a drone to film a man fighting another man near a hanging bell. The bell was shipped to Montana specifically for the scene.
Producer Jeff Guillot was careful not to name names, but he did give clues that indicate the project was for "Red Dead Redemption 2." Guillot confirmed that the scenes were for "a sequel to an existing global franchise." He also shared that it will take place in a Western open world, but that the location itself is a fictional one.
Several publications have come to the conclusion that Guillot was filming for a live action trailer of RDR2. And while the details are slightly general, the gaming world is not anticipating any other Western sequel releases soon -- at least none with the type of budget that has been estimated for RDR2.
Guillot also confirmed that the game he was shooting for would be released in September of this year. This is arguably the biggest piece of information that he shared because Rockstar Games still has not revealed a release date. Thus far, the game developer has only given a time frame that covered the last quarter of 2017.
While it was not confirmed that the scenes were being shot for "Red Dead Redemption 2," it is a likely possibility as all the details seem to fit in at this point. And while this could mean that Rockstar Games is looking to release a live action trailer soon, it might mean that a gameplay trailer may not be a priority at this point. Nevertheless, fans of the franchise would be thrilled to receive any piece of news at this point.
ALSO READ:
'The Last Of Us 2' and 'Red Dead Redemption 2' share one award-winning connection
'Red Dead Redemption 2' PC update: Announcement is still some time away
MEET IBT NEWS FROM BELOW CHANNELS