Prince Andrew Might Have Been Caught On Tape With 'Sex Slave'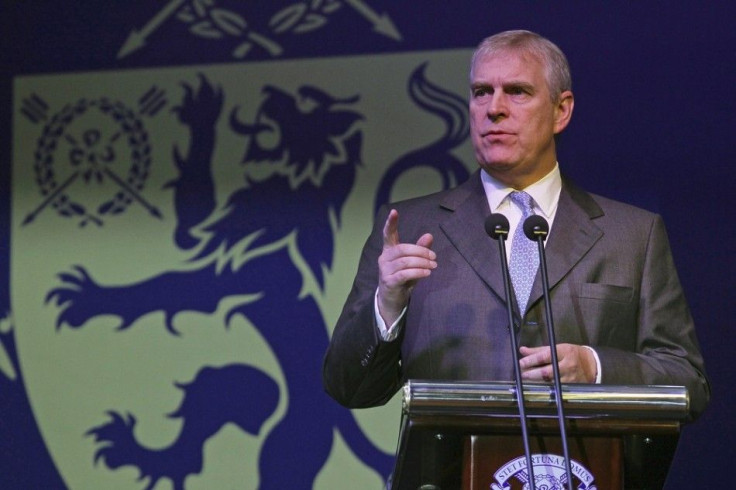 Prince Andrew's alleged sexual romps with an underage girl is reportedly taped and tucked away somewhere. According to recent reports, paper filed against his friend Jeffrey Epstein in 2006 mentioned that he had installed hidden cameras everywhere in his property to record the indecent acts of important people with underage prostitutes for further criminal use such as blackmail.
Mirror has reported that Epstein used to photograph and record the orgy sessions that he used to throw for VIPs and other dignitaries through concealed cameras. The 2008 Florida lawsuit clearly mentioned the fact that his properties were filled with hidden cameras. At the time of his arrest in 2006, stacks of provocative images of various underage girls were reportedly seized from a computer at his Palm Beach mansion.
"On the day of his arrest, police found two hidden cameras and photographs of ­underage girls on a computer in the defendant's home," states the paper filed charging Epstein of solicitation for prostitution. He pleaded guilty and was jailed for 18 months in 2008.
In recent turn of events, Australian mother of three Virginia Roberts, 30, has accused Epstein of keeping her as a sex slave for four years when she was just 15. She was allegedly supposed to be available on demand by Epstein and was pimped out to many important people including Prince Andrew.
In the lawsuit, Roberts has claimed that she was paid to have sex with Prince Andrew at multiple times in London, New York and once on Epstein's private U.S. island for a group orgy with few other underage girls. "I was a paedophile's top girl, being trained up for a British prince," claims Roberts in her lawsuit. Herald Sun has reported that court papers also mentions that she was loaned to politicians, powerful businessmen, foreign presidents, world leaders and even a prominent prime minister.
Meanwhile, New York Daily reports that another woman Johanna Sjoberg had also once accused Prince Andrew of groping her during a party in Epstein's seven-story townhouse in New York City. Sjoberg had also accused famous attorney Alan Dershowitz with forceful sex. Dershowitz has reportedly denied the blame and is contemplating of legal actions against the woman.
Buckingham Palace has vehemently denied all the charges. Prince Andrew has reportedly rushed back to London with ex-wife, Sarah Ferguson and their two daughters as they were on a family vacation at a luxury Swiss ski chalet.
For questions/comments regarding the article, you may email the writer at poojakamal1203@gmail.com.
MEET IBT NEWS FROM BELOW CHANNELS