NFL: Dak Prescott braces for tougher grind, hopes to make Tony Romo proud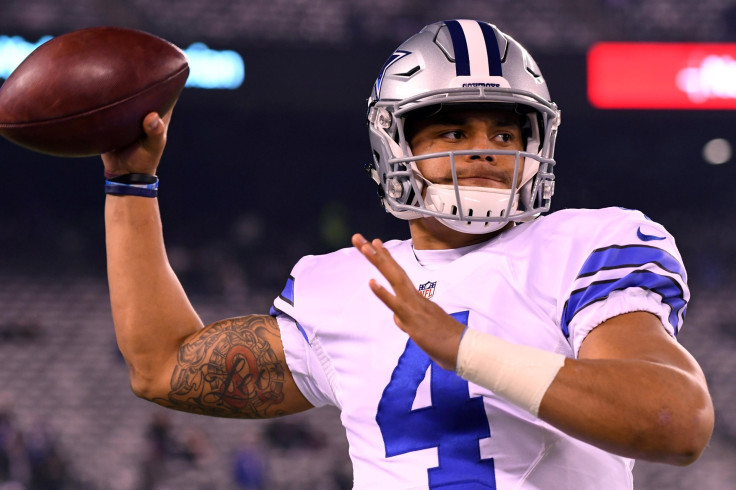 After a dream rookie season, Dak Prescott will have to work hard to establish himself as the right starting quarterback for the Dallas Cowboys. With Tony Romo retiring, all eyes will be on the sophomore who made quite an impression last NFL season.
The scenario will be entirely different, with Dak Prescott given heavier responsibilities. After showing what he can do, most NFL teams are studying his rookie run and will be better prepared for the 2017-18 NFL season. But aside from the tough grind and sacks ahead, Prescott needs to prove something, particularly to the Dallas Cowboys fans.
Most have been used to seeing Tony Romo call the plays before a back injury forced him to the sidelines last season. This was the opportunity Prescott got; he did not disappoint. But the fact of the matter is that memoirs of Tony Romo is still in the air, NFL.com reports. Hence, Prescott needs to establish himself in this transition stage and prove to one and all that he is the new quarterback coach Jason Garrett will be counting on.
There is no question that Prescott has big shoes to fill. Romo reached four Pro Bowls and holds the franchise-record of 34,183 yards. The 23-year-old did start his NFL career right, already amassing 3,667 yards, 23 touchdown throws and four interceptions last season, Bleacher Report reports. Obviously, he has a long way to go.
Prescott fell a bit short last season when the Cowboys fell to the Green Bay Packers in the NFC Divisional Round. The experience is something he can learn from, making him wiser as the Cowboys move forward. Could he ask Romo for some advice?
Prescott says that his relationship with Romo has not changed even before the 36-year-old decided to call it a career. Nothing came in between both during the time they were together so both are presumably still in speaking terms.
Some may find it odd but Romo seems to have more beef on coach Garrett than Prescott. If the incoming sophomore asks for it, Romo could give him some pointers.
The coming NFL season comes with a lot of pressure for Prescott, though that may force him to grow up fast. His level of play cannot be lower than what he showed last season, meaning Prescott needs to make sure he comes out with a credible performance each time he takes the field from here on.
MEET IBT NEWS FROM BELOW CHANNELS