'Never Ending Story' star Tami Stronach releasing new album in February [Exclusive Interview]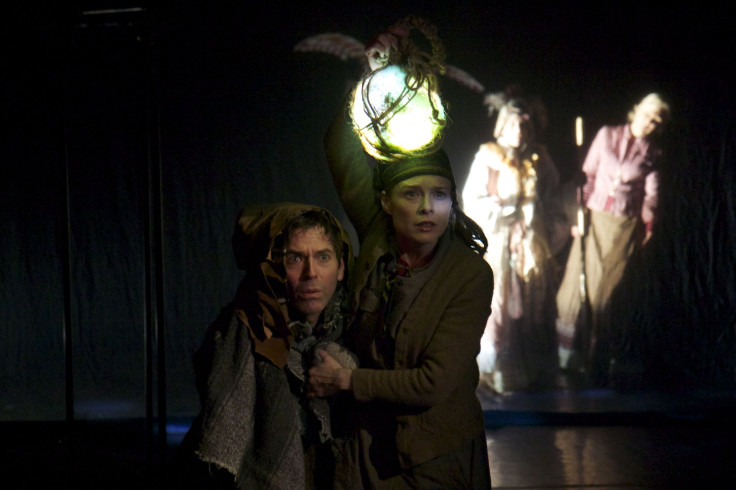 The Child-like Empress from "The Never-Ending Story" is back! Tami Stronach, 30 years on, is putting together a new album and show for families and children – with the album set to launch next month, and the show set to kick off in New York on February 4.
Directed by Wolfgang Peterson, "The Never-Ending Story" was a West-German produced English-language film that, at the time, was the most expensive film produced outside the United States or the Soviet Union. It won several awards over 1984 and 1985, was a global hit, snaring US$100 million (around AU$132 million) worldwide against a production budget of US$27 million (around AU$35 million).
After a couple of decades of making dance and theatre in NYC, Stronach has now turned her attention to laying the foundation for a content shop that makes "family friendly" work – not unlike "The Never-Ending Story." In February, Tami releases a new album, Beanstalk Jack, a folk rock "opera" based on Jack and the Beanstalk.
Beanstalk Jack is a 50-minute folk rock "concept" album that tells the classic tale of Jack and the Beanstalk with an Americana sound, and a girl meets boy twist. In it, young Jack goes up the Beanstalk with his six-string to find his fortune. In the big world at the top of the Beanstalk, Jack steals the heart of a giant's daughter, Harmony, a bright star just waiting for the right band to come along.
This new project is the first in a series of collaborations with a notable crew of indie folk rock artists in Williamsburg. In the coming months Stronach will be choreographing and performing in videos for the album and doing promo concerts in preparation for launching a full live theatrical experience.
International Business Times, Australia: Just how much do you owe "Never-Ending Story" for your career?
Tami Stronach: I owe the "Never Ending Story" so much. The message of "doing what you dream" still shapes my life, and is a big part of my mission as a performer, producer, professor and public speaker. Funnily enough, being a child actor didn't give me a leg up as performer and choreographer in the NYC per se. But the themes of the film have always lived deep in my bones and guided my choice to pursue a creative life on stage. The message of the "Never Ending Story" to believe in the power of the imagination to build a kinder more vibrant world—one filled with hope—is just as necessary today. I still believe in that mission. I never stopped pursuing that. It seems more important now than ever, to do what you dream.
IB Times: You didn't so much use the film opportunity as a springboard to get into film but theatre. What was it about theatre that appealed to you more?
Stronach: There were many great things about being in the film, but being a celebrity, especially as a kid, had some significant downsides. What was compelling to me was acting, but being put on a pedestal was not a good fit at the time. I love performing, though. That was not something I could walk away from. So I both danced and acted for the last 20 years in NYC. I did a lot of what's known as "physical theatre," which allowed me to draw on my dance background too. In my own choreography I've always walked the line between dance and theatre. My favourite projects tend to combine these disciplines in some way. To be honest, though, I loved acting in the film. I'm ready to get back to it.
IB Times: Your latest venture, the Paper Canoe Company, involves creating content specifically for families. Can you explain more?
Stronach: So Paper Canoe Company is a boutique content producer. I founded it with my husband, Greg Steinbruner, who I met in the New York theatre scene. As parents ourselves, we were surprised to find that you kind of get through the "good stuff" pretty quickly with your kid, and after that it can be a struggle finding things you can enjoy together as a family. Parents tell us that they love the stuff we make almost as much as their kids do. Honestly, that's why we're doing it. We think if we can make stories that make kids feel like grown-ups and make grown-ups feel like kids, we will be very successful. We've produced two stage shows and are releasing our first album "Beanstalk Jack," available now on Bandcamp.com, and everywhere music is sold on February 4th .
IB Times: And where did you come up with the rather unique name?
Stronach: A paper canoe is something you make by hand as a kid, but it has a limitless kind of magic to it. An ordinary piece of paper becomes a vessel for your imagination. It can take you literally anywhere you want to go in your mind. Our stories ask the audience to imagine. We want you to be transported, but it is your imagination that does a lot of the work. A paper canoe really captures that idea.
This year building on the success of the shows and the album, we are doing live concerts of "Beanstalk Jack," and creating more audio, print, TV potentially, and there are some films we would like to make if we can motivate serious investors.
IB Times: How does "Beanstalk" differ from the traditional "Jack and the Beanstalk" story?
Stronach: I turned it into a love story, of course! Jack and the Beanstalk with a girl-meets-boy twist. There are so many great themes in the classic story. Taking down a greedy giant when you're the underdog. Getting a reward for having the courage to climb high and venture into unknown. But somehow telling my daughter that Jack defeats the bad guy by stealing his stuff and then killing him seemed sort of weird. So we made sure that our giant was truly bad—an arrogant big shot who thinks he can steal everybody's stuff a get away with it. We asked ourselves what would be the best revenge that Jack could inflict upon someone like that? So we gave the giant a daughter, instead of a wife. Her name is Harmony. She is kind of a rock star in waiting, a singer in need of a band. So in our version Jack is a little bit country, and Harmony is a little bit rock and roll, and they steal away together, breaking her obnoxious father's heart. We like to imagine they become a legendary touring band called "Beanstalk Jack." Happiness is always the best revenge.
IB Times: When you hear the name "Never-Ending Story" what does it make you think of?
Stronach: It makes me think that the universe likes to play funny games with us mere mortals. I made this one (I thought obscure) film in Germany and more than 30 years later I'm still being asked questions about it—so it really is a "Never Ending Story" for me in a very good way. I never made a penny on the film, but it has been a constant feature of my life since that time. And really I think the title is about how the project of dreaming up a better world—a more just and more beautiful world—is never finished. It must be continually renewed by each new generation.
IB Times: Do you think we'll see a remake of the film one day? Hope for a cameo or to be involved in some capacity?
Stronach: If they make a remake of course I'd love to do a cameo…I'd be happy to revisit this wonderful story in any capacity….If they take a long time maybe I could play the wife of the old scientist, Urgl…she's pretty cute!
Details about the "live" theatre version of Beanstalk Jack in New York are available on National Sawdust website. The event is scheduled for Feb 4.
MEET IBT NEWS FROM BELOW CHANNELS