'Neighbours' spoilers for May 23-26: Angie threatens Sonya over Nell's custody, Terese and Gary get engaged [WATCH VIDEOS]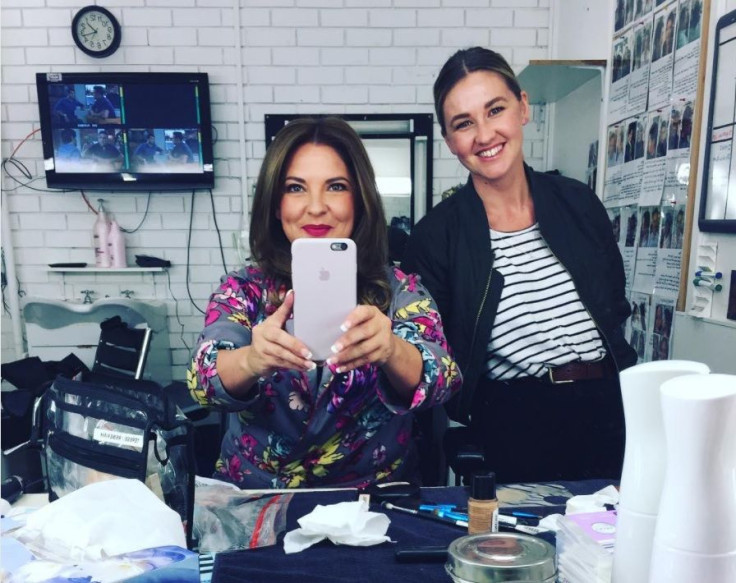 The "Neighbours" cast 2017 including Angie (Lesley Baker), Sonya (Eve Morey), Steph (Carla Bonner), Tyler (Travis Burns), Terese (Rebekah Elmaloglou), Gary (Damien Richardson), Toadie (Ryan Moloney), Shane (Nicholas Coghlan) and Mishti (Scarlet Vas) will be in the spotlight this week for the episodes of the Aussie soap from May 23-26 (Tuesday to Friday). The stories include Angie's return to torment Sonya over Nell's custody and Terese and Gary's engagement announcement. Read on to learn more.
Spoiler Alert! This article contains 'Neighbours' spoilers. Read only if you want to know more about your favourite Ramsay Street residents.
According to Tenplay's official website, the "Neighbours" episodes this week will show Shane and Mishti getting closer, which makes Toadie concerned. He will warn Shane about the importance of marriage, especially the part about not cheating on one's wife. Meanwhile, Gary will ask Terese to marry him and they will announce their engagement to their loved ones. However, not everyone will be thrilled to learn about it.
As for Angie, she will come back to warn Sonya about the possibility of losing Nell's custody because of her alcoholic and gambling tendencies. Plus, Tyler has an idea on who's behind the disaster at Backpackers. However, Steph has other plans to gather proof of who the culprit really is.
Metro reports that Leo (Tim Kano) will end up revealing a much softer side of himself to Mishti. However, he will also be privy to Mishti's other side. Meanwhile, Sonya and Toadie will still work on their relationship. Unfortunately, a surprise visitor will make things difficult for Sonya.
As for David (Takaya Honda), he will be pleased after his successful date with Will (Christian Heath). Although, he will be bothered by Will's silence because the latter is not replying to his texts. Elsewhere, Brooke (Fifi Box) will make arrangements for Xanthe's (Lilly Van der Meer) birthday celebration. She will also realise that she's falling more and more in love with Gary.
Tyler will start to investigate on who caused the incident at the Backpackers. He will do this behind Mark's (Scott McGregor) back. Meanwhile, Sonya will get into even more risky activity despite her better judgement. Steph will try to cover for Sonya's actions. Unfortunately, she'll get busted for it.
As for Xanthe, she won't be able to keep her mind off Finn (Rob Mills). She will visit him and he'll give her a birthday gift which will make them even closer.
"Neighbours" airs weekdays at 6.30 pm on Network Eleven in Australia. It also airs weekdays on UK's Channel 5.
Watch "Neighbours" 2017 videos from the soap's official Facebook (FB) page:
In case you missed it (ICYMI), READ these stories:
MEET IBT NEWS FROM BELOW CHANNELS