'Modern Family' season 8, episode 4 recap, spoilers: 'Weathering Heights'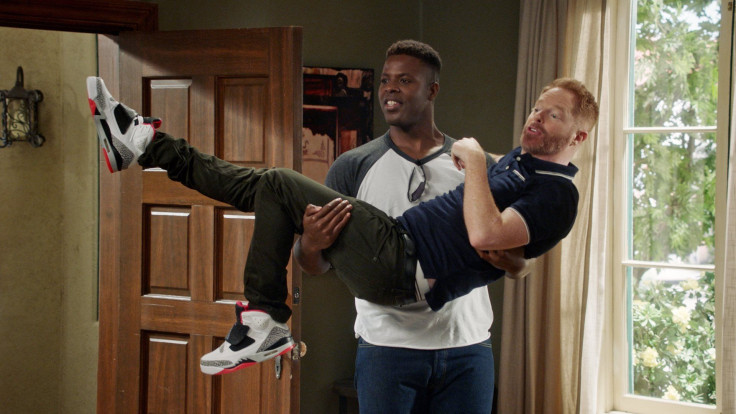 Phil (Ty Burrell) is excited when he gets invited to make an appearance in a real estate market segment for the local news, where he meets his weather hero Rainer Shine (Nathan Fillion). Jay (Ed O'Neill), meanwhile, helps Manny (Rico Rodriguez) with his video résumé for a college application on "Modern Family" season 8, episode 4 (Modern Family 8x04).
Spoiler alert: This recap contains plot details about season 8 of "Modern Family." The eighth season premiered Sep. 20 on ABC. The series is available for Australian viewers to watch on TENplay.
Modern Family 8x04 – The Dunphys
The episode starts out with Phil preparing his look for a news segment where he is set to make an appearance as the local real estate expert. The only problem is that his lips are blood red from over application of lipstick, and he gets ridiculed by his wife and kids.
Haley (Sarah Hyland) helps his father with his make-up on the set, where they meet appropriately named award-winning weatherman Rainer Shine. Phil gets star-struck and invites Rainer to have dinner together. The newfound friendship takes a hit when Phil discovers Rainer and Haley kissing. Phil and the weatherman eventually patch things up when Phil realises he himself gave Haley's number to Rainer.
Claire (Julia Bowen) and Luke (Nolan Gould), meanwhile, both tired of Alex's (Ariel winter) smug attitude, cheat their way into beating her at scrabble.
Modern Family 8x04 – The Tucker-Pritchetts
Cam (Eric Stonestreet) lets his star football player Dwight (Winston Duke) stay at their house because the athlete's father had to transfer to an army base in Florida. Lily (Aubrey Anderson-Emmons) is annoyed that both her parents are all over the guest, leaving her unattended. She tells them about an empty bottle of liquor she found under Dwight's bed, a lie her parents saw through.
Cam and Mitchell (Jesse Tyler Ferguson) give Lily a chance to come clean by having a stripper come over to play police and arrest Dwight, who was in on the act. When it doesn't work, her parents confront her. She runs off, upset with being neglected. They follow her into her room to talk things through. Lily admits her mistake and apologises.
Modern Family 8x04 – The Pritchetts
Over at the elder Pritchett's residence, Gloria is worried about Joe's (Jeremy Maguire) speech so she takes him to a therapist, only to discover she needed vocal help herself.
Manny shows Jay and Gloria (Sofía Vergara) his application video to an art school. Jay, unimpressed with the Hamilton-inspired effort, offers a helping hand. But Manny, not liking Jay's shady approach which involved violence, eventually decides to strip all pretensions and does a simple heartfelt video.
MEET IBT NEWS FROM BELOW CHANNELS